This program makes a truly positive impact on impoverished children and their families. Volunteers are desperately sought to help this program implement a comprehensive approach to pre-school educational policies and programs for children from birth to six years of age (school entry age) with the active participation of their parents and caregivers. Within the local community, home-based crèches are established by unemployed women. Some of these women have never received any kind of formal training in Early Childhood Development, and their establishments' resources are generally very limited. Volunteer help is essential to the viability of these projects and greatly appreciated. Duties for volunteers therefore vary and a love for working with children and lots of patience are very important. Volunteers need to be flexible and willing to help wherever help is needed. It is also important that they understand the local community situations and the local challenges associated with these types of placements.
Goals of this Project:
Provide quality child care to underprivileged children in Cape Town
Improve the future prospects of children through providing a solid early childhood education, improving their educational prospects for the future
Boosting the confidence and aspirations of marginalized children and their families
Enable inter-cultural exchange which benefits both students and international volunteers alike
Volunteers play an essential role in supporting impoverished children on this program. Their participation allows the program to continue to operate without funding. Volunteers will spend time assisting with daily activities, teaching and playing with the children. Volunteers must be able to take initiative in assessing the needs at the crèche. In the areas where Xhosa or Afrikaans is mostly spoken the volunteer would need even more patience as most of the children cannot speak English. This is usually not an issue as children are very eager to learn and one just needs extra patience with them. Volunteers usually work 4-6 hours per day, starting at around 8.30 am.  A willingness to help in other areas of the project would also add value e.g. upgrades to the facility, finding creative ways to make learning aids/material.
Volunteers on this program will contribute in a number of ways and can expect to undertake the following tasks:
Helping to teach children
Attending to and interacting with the children
Creating activities and toys and entertaining the children with games and songs
Help with preparing meals, feeding children and other duties where required
Love Volunteers welcomes all those 18 years and over who wish to assist in the development of South Africa's next generation. While this highly rewarding project does not require participants to have a background in the field of childcare, as there are many ways you can assist, volunteers with suitable education, qualifications or experience are highly sought after. Regardless, a volunteer's individual role can often be tailored to suit their particular skills and interests. Ideally, volunteers on this project will have at least a basic knowledge of the local language in order to communicate effectively with staff and students, though this is not a pre-requisite as most speak English. All applicants must of course display a genuine willingness to help, show drive and initiative, and bring a positive 'can-do' attitude. If this sounds like you, we want you on the team!
Additionally, volunteers applying to join this program will be required to supply to following documentation:
Emergency contact
Police check
The program is based in beautiful Cape Town, the tourism hotspot of South Africa, boasting a wonderful hospitality scene, gorgeous beaches, scenic landscapes and the iconic Table Mountain. Volunteers on this placement will be excited by all they can experience while based in this city, while also working on an important environmental protection program.
This project is available year-round and programs start every SUNDAY. Volunteers can choose to participate for periods ranging from 2 weeks to 12 weeks. Longer stays can be arranged directly with the local team, but will be subject to availability and individual visa conditions.
Spaces on this project are limited and therefore subject to availability. Early booking is recommended.
For current available start dates please check the calendar on the right.
Arrival & Orientation
Breakfast , Airport Pickup Included
Upon arrival into Cape Town airport volunteers will be collected by a representative of the local project team and transported to their assigned accommodation where they will join a short welcome session. On Monday, volunteers attend the full orientation session where a representative from the local team will fill you in on local and regional customs, traveling, rules and recommendations, and of course, what to expect from your volunteering experience in South Africa. This is a great opportunity to get to know your hosts, meet your fellow volunteers, and ask any last questions you may have.
Program Arrival Day: SUNDAY
Program Departure Day: SATURDAY
Arrival/Departure Airport: Cape Town International Airport, Cape Town, South Africa (CODE: CPT)
Volunteers on this project are primarily accommodated at a fabulous Volunteer House located in one of the best suburbs of Central Cape Town - Observatory.
Observatory, or "Obs" as the locals call it, is Cape Town's most bohemian suburb and lies about 15mins (drive) east of the city center. Located just 2km from the University of Cape Town, this student town is a vibrant, multi-cultural community that attracts young travelers from all over the globe, all year round. Our hostel is a 10min walk from Lower Main Road - the main entertainment area and heartbeat of Obs. You'll find quirky restaurants, easy going bars, live music (everything from Reggae and Afro-jazz to Contemporary) and tons of cozy little coffee shops and cafés. During the Apartheid era, Observatory was one of the few "grey" suburbs – areas where people of mixed race, religion and cultures were allowed to live together. This spirit has lived on and has resulted in a suburb unique in its diversity. Within a 5km radius of Obs, you'll find the Newlands rugby and cricket stadiums, various shopping centers, museums, art galleries and stage theaters, hiking trails and of course The Old Biscuit Mill - this vibrant spot is home to night and day markets, designer stores, delicious farm-stalls, decadent cafes as well as an awesome line-up of festivals and events.
There are two houses located right next door to each other, joined at the rear by a courtyard.
Each house boasts the following features:
Accommodation for up to 50 volunteers in dorm-style rooms, sleeping between 4-8 people
On-site, live-in Hostel Manager
2 fully-equipped Kitchens
2 communal lounge areas with satellite TV
Fully-fitted bathrooms with 4 showers and 3 toilets in each house
Individual lockers for each volunteer - padlocks not supplied
Free WiFi internet connection 
Linen provided
Centrally located on transport routes and close to supermarkets, internet café, launderettes, restaurants, etc.
Self-service breakfast at the hostel on week-days (Monday – Friday, 6am – 8.30am). Cereals, bread/toast with various toppings, coffee/tea, variety of fruits.
Lunch, dinner and weekend meals are not included but can be eaten out at any of the affordable and varied eateries. Supplies can also be purchased and meals prepared in the house kitchen.
All volunteering projects are situated within walking distance or one taxi ride (10-20mins)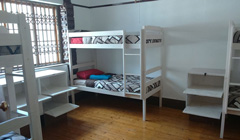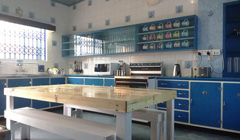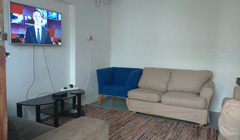 For those who prefer, host family accommodations are also available on request. Home-stays are located at least 30-40 minutes from the center of Cape Town and are a fantastic way to be immersed in the culture of South Africa!
That's just
USD 32

per day* for:
*In addition to the program fees listed above a Registration Fee is payable to secure your place. The registration fee is USD 299 for those volunteering with Love Volunteers for the first time or USD 149 for any subsequent volunteer placements. The registration fee includes: lifetime LV Alumni Membership, fundraising support & advice, dedicated pre-departure support, certificate of completion (on request), and exclusive access to the LV Trip Planner.
Some things are not included in the program fees listed above, such as flights, visas, vaccinations, travel insurance, additional foods and snacks, spending money, local transport, in-country trips and excursions, return airport transfer (unless mentioned above).
Please note that prices are subject to change without notice. Please ensure you have read the Love Volunteers Terms and Conditions & Refund Policy.