Volunteer Teaching Program
This essential program aims to help vulnerable children and adults and improve their futures. In Mombasa, volunteers can choose to work in either high schools, a special needs residential school or a language school for adults. Schools are greatly under resourced so this volunteer support makes a huge difference to students. The Special Needs School Love Volunteers works with is extremely large with over 480 residential students, and they greatly need help to teach and care for these vulnerable children. Some of the children are severely disabled and without this school, would be at risk in the community. The school would love to have volunteers with experience in speech therapy, occupational therapy, social work, audiology or any other specialist area, however would love any volunteers who are compassionate and willing to spend time with the children. At the language school volunteers will be involved in planning and running lessons in either English, German, French and Italian, aiming to develop second languages in young adults to open up opportunities for employment abroad. At Diani Beach volunteers will work in the severely under resourced local schools, working with children who live in high levels of poverty.
Goals of this Project:
Provide essential teaching to under-resourced schools in Mombasa and Diani Beach
Provide an educational foundation for vulnerable children and adults to build on and break the poverty cycle and improve their future prospects
Provide essential support to special needs children
Enable inter-cultural exchange which benefits both locals and international volunteers alike.
Volunteers on this wonderful and varied teaching program will play an important role in the lives of the participating children and adults. In the high schools, volunteers will make a huge difference by running lessons for students in their field of expertise, assist teachers with lessons or marking, and make a true impact on individual students by working one on one with students struggling in reading and maths. They will also help by planning and running fun activities such as sports days and teaching vocational skills. Volunteers in the special needs school will help in any capacity they can, from working in their field of expertise, to helping teach and care for the children. The schools works with children with varying disabilities from intellectual disabilities to vision and hearing impairments to cerebral palsy, autism and microcephaly. In Diani Beach, the schools are often in the poorest areas and are extremely underfunded and under resourced. Some do not have enough teachers for the number of classes they have. Volunteers can run lessons and activities, play with the younger children, assist with marking work, run teacher training sessions and help with cooking and cleaning. Most schools also have construction work that needs to be done as well.
Volunteers will contribute in a number of ways at the various schools on this program and can anticipate;
Teaching children in a variety of subjects
Playing sports and other games and interacting with the children
Working with students on projects and activities
Working one on one with children on core subjects
Teaching adults language classes for those on the language program
Love Volunteers welcomes all those 18 years and over who wish to help create a brighter future for children through the power of education. This project best suits those with experience and/or qualifications in the field of childhood development and education, though volunteers who simply wish to explore an interest in this field are also welcomed as there are many ways you can assist in the classroom. Whist not mandatory, completing a TEFL course prior to joining this project would prove to be highly beneficial. Ideally, volunteers on this project will have at least a basic knowledge of the local language in order to communicate effectively with staff and students, though this is not a pre-requisite. Importantly, all applicants must first and foremost have a genuine willingness to help, show drive and initiative, and bring a positive 'can-do' attitude. If this sounds like you, we want you on the team!
Additionally, volunteers applying to join this program will be required to supply to following documentation:
Emergency contact
Police check
Resume
Project Location
Kenya, Mombasa & Diani Beach
With some of the best beaches in the world, Mombasa is Kenya's main tourist destination. It is located on the Eastern coastline of Kenya bordering the Indian Ocean. There is a tropical climate all year and the city is filled with many things to do during the day and at night.
Inscribed as a Unesco World Heritage Site in 2011, Fort Jesus is one of the oldest European buildings on the eastern coast of Africa. The ultimate in indestructible fortresses, it stands 15 meters (50ft) high on the seaward side, where it overlooks the entrance to the Old Harbor, and its stone walls are up to 2.5 meters (8ft) thick.
The Old Town, located around Fort Jesus is a great place to visit. This historic district has mostly been converted into souvenir shops and restaurants. A maze of alleys, many too narrow to allow motor traffic, the Old Town sprawls out either side of the Ndia Kuu Road. A nice place to explore on a Sunday when much of the city is closed down. Mombasa is a truly epic place to visit and be a volunteer!
Diani Beach is a fantastic long white beach with loads of water sports and primates to see. A night at '40 Thieves' beach bar is a great place to hang out for a few tuskers (beers). From Mombasa you can catch the ferry from Mombasa town center across to Diani and then Matatu to the beach -  approx. 1 hour travel time.
This project is available year-round and programs start every SUNDAY. Volunteers can choose to participate for periods ranging from 1 week to 12 weeks. Longer stays can be arranged directly with the local team, but will be subject to availability and individual visa conditions.
Spaces on this project are limited and therefore subject to availability. Early booking is recommended.
For current available start dates please check the calendar on the right.
Upon arrival into Mombasa volunteers will be collected by a representative of the local project team and transported to the volunteer house accommodation where they will join a full orientation session where a representative from the local team will fill you in on local and regional customs, traveling, rules and recommendations, and of course, what to expect from your volunteering experience in Kenya. This is a great opportunity to get to know your hosts, meet your fellow volunteers, and ask any last questions you may have.
Program Arrival Day: SUNDAY
Program Departure Day: SATURDAY
Arrival/Departure Airport: Moi International Airport, Mombasa, Kenya (CODE: MBA)
Accommodation & Meals
Volunteer House / Meals Included
Volunteers on this program are accommodated in a volunteer house, located in a safe and convenient suburb of Mombasa within a short commute to all the main attractions of this fascinating city. Rooms are shared and split by gender. Sheets and basic mosquito nets are provided so volunteers need only bring personal toiletry items.
For Wifi, we recommend volunteers purchase a sim card with a data bundle on arrival. There are no hot showers as these are not common in Mombasa due to the climate. As with most parts of Africa, laundry facilities are basic and most volunteers simply use the services of a local laundromat.
While the accommodation is basic this is part of the challenge and experience of volunteering in a developing country. With a little patience and a flexible attitude you will quickly get used to your new surroundings. The volunteer house is well managed by the local team and there is an onsite 'house mama' to look after volunteers. A great home away from home and a wonderful base for your stay in Kenya!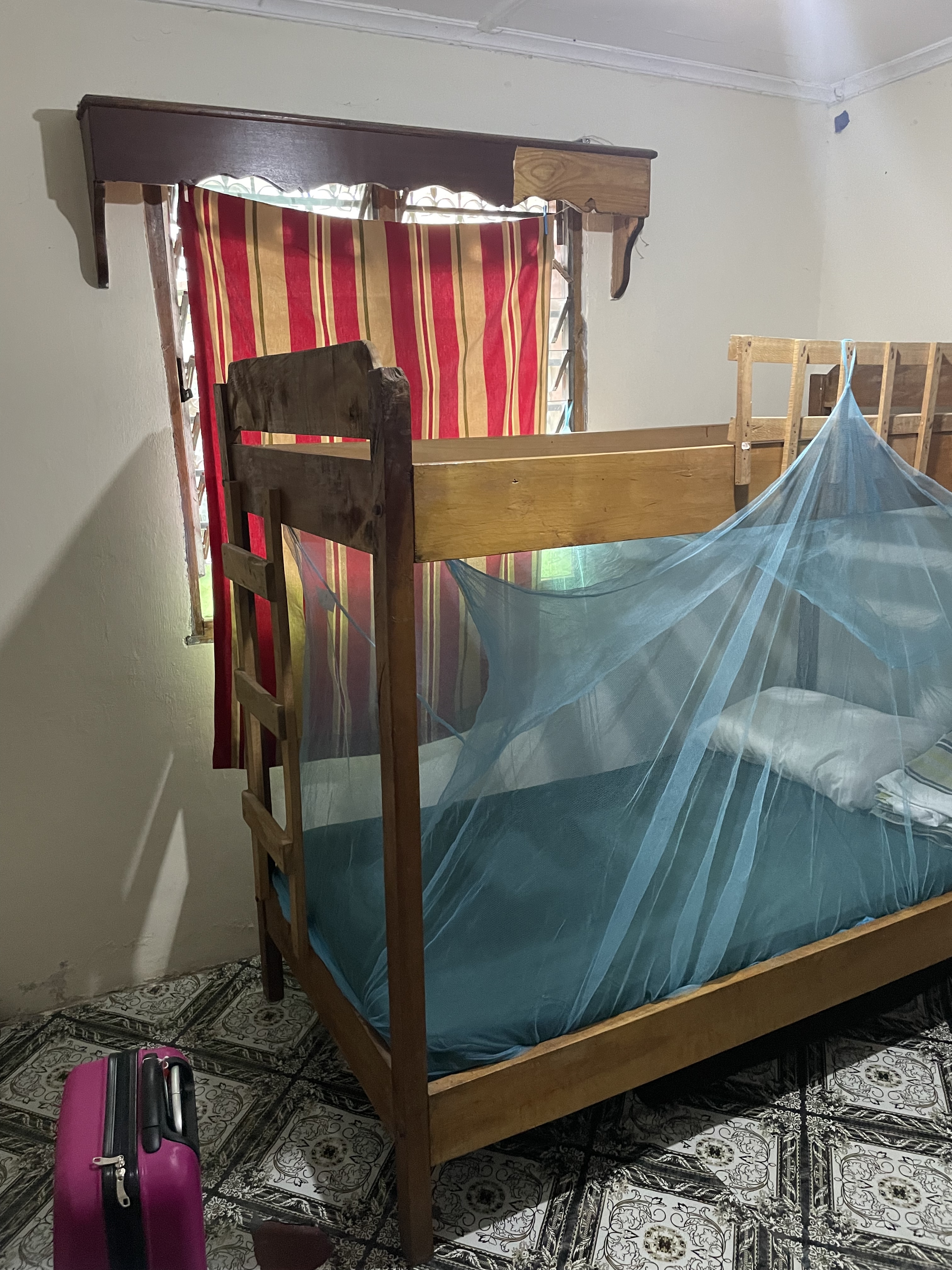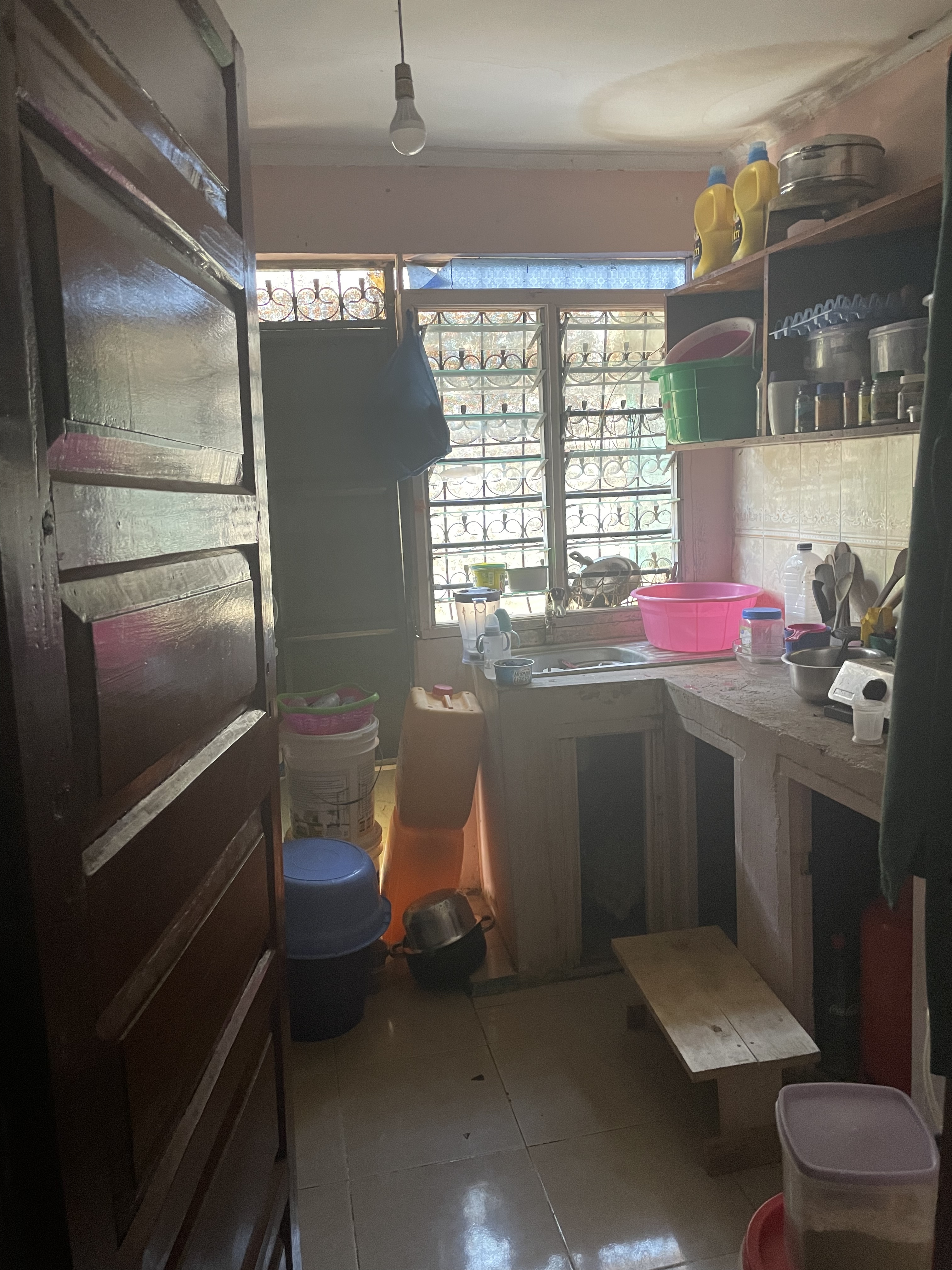 Breakfast and dinner is provided at the volunteer house during the working week and 3 meals are provided if you are at your accommodation during weekends. Lunch on weekdays can be taken at small cafes or restaurants where you can try cheap and tasty local food. You are also free to buy bread and other snacks. The meals provided are mostly vegetarian, local cuisine. Conveniently, there is also a fridge and basic cooking facilities if volunteers would occasionally like to prepare their own meals. Easy!
There is a variety of public transport available in Mombasa, Bus (Matatu), Tuk Tuk and Motorcycle.  It is not recommended to take motorcycles on highway routes or long distances.
For those who prefer, in some cases we can arrange accommodation with a host family who are experienced in hosting international volunteers. The host family accommodations will involve shared bedrooms and bathrooms. Please keep in mind that in some of the more rural areas bathrooms will consist of squat toilets and bucket showers. Although most families have running water, hot water is still uncommon among local families in Kenya.
That's just
USD 37

per day* for:
*In addition to the program fees listed above a Registration Fee is payable to secure your place. The registration fee is USD 299 for those volunteering with Love Volunteers for the first time or USD 149 for any subsequent volunteer placements. The registration fee includes: lifetime LV Alumni Membership, fundraising support & advice, dedicated pre-departure support, certificate of completion (on request), and exclusive access to the LV Trip Planner.
Some things are not included in the program fees listed above, such as flights, visas, vaccinations, travel insurance, additional foods and snacks, spending money, local transport, in-country trips and excursions, return airport transfer (unless mentioned above).
Please note that prices are subject to change without notice. Please ensure you have read the Love Volunteers Terms and Conditions & Refund Policy.