The Tanzania Animal Welfare Program
This wonderful program works in a number of ways to raise awareness of and stop the abuse and neglect of animals, while also providing hands-on care for animals in need. Volunteers can choose to work on the animal welfare campaign, or in the animal shelter – or do both! The need of more adequate animal care and education of the population in and around the Arusha area is huge. The shelter cares for a large number of puppies and fully grown dogs, and some cats. The animal welfare program works on education and awareness programs in the Meru region to protect animals from cruelty by promoting, improving, and developing matters concerning the welfare and understanding of animals. They are fighting for a different perception of animals within their culture and society and the five freedoms of animals: freedom from hunger and thirst, freedom from discomfort, freedom from pain, injury and disease, freedom from fear and distress and freedom to express normal behavior. The program works on a variety of initiatives to increase understanding and to make real change to the lives of animals. Volunteers on this program will gain great experience on a variety of initiatives and know that they are truly helping animals in need.
Goals of this Project:
Provide essential care and support to vulnerable animals in Tanzania
Increase awareness of the plight of animals in Tanzania and educate people on animal rights
Create a safer society for animals to live
Enable inter-cultural exchange which benefits both locals and international volunteers alike.
Volunteers play an essential role on this program in promoting the care and wellbeing of animals. From working in a shelter to designing animal welfare campaigns, volunteers could work on a range of tasks with the same important aim – to create a better life for animals in Tanzania. While volunteer placements can be a little as two weeks, those wishing to stay three – six months will be able to make a huge contribution to the animal welfare program – and see projects and initiatives through to completion. They will gain great experience at the coalface of an organization that is championing the rights of animals and advocating for a better life for them. Volunteers on the animal welfare project could work on initiatives such as designing different animal welfare projects, seeking internal and external donors and applying for grants, present reports to donors, plans and implement fundraising activities, work on marketing materials and educating children in schools on animal welfare.  There is something for everyone and all contributions are welcomed.
Volunteers will contribute in a number of ways on this program and can expect to undertake some of the following tasks:
Provide day to day care to dogs and cats (playing with, caring for and walking dogs)
Design animal welfare education programs
Write marketing materials
Work on fundraising campaigns and initiatives
Educate children in schools on animal welfare
Love Volunteers welcomes all those 18 years and over who wish to give their time and energy to help protect and conserve the domesticated animals of Tanzania. This project is best suited to those who are either pursuing a career in animal conservation/zoological studies, or who simply wish to explore an interest in this field. However, the project is open to all and does not require participants to have specific education, qualifications or experience, as you will be shown everything you need to know by one of local project leaders. Importantly though, all applicants must first and foremost have a genuine willingness to help, show drive and initiative, and bring a positive 'can-do' attitude. If this sounds like you, we want you on the team!
Additionally, volunteers applying to join this program will be required to supply to following documentation:
Emergency contact
Police check
Situated in northern Tanzania, Arusha is the capital of the Arusha Region and is surrounded by some of Africa's most famous landscapes and national parks. Situated below Mount Meru on the eastern edge of the eastern branch of the Great Rift Valley, it has a mild climate and is close to Serengeti, Ngorongoro Crater, Lake Manyara, Olduvai Gorge, Tarangire National Park, and Mount Kilimanjaro, as well as having its own Arusha National Park on Mount Meru.
Arusha balances well the 'city life' with the 'small town' feel and that makes it even more attractive in the eyes of tourists and travelers from all parts of the world. The city is surrounded by farm estates growing coffee, wheat and maize. These farm estates are being maintained by the Arusha and Meru tribes since the 18th century. Arusha is commonly referred to as the safari capital of East Africa. This is because it is the main starting point for safaris into Tanzania. It is a vibrant town renowned for its streets filled with tourist vehicles, the Maasai warriors and the famous Central Market. Awesome!
This project is available year-round and programs start every SUNDAY. Volunteers can choose to participate for periods ranging from 2 weeks to 12 weeks. Longer stays can be arranged directly with the local team, but will be subject to availability and individual visa conditions.
Spaces on this project are limited and therefore subject to availability. Early booking is recommended.
For current available start dates please check the calendar on the right.
Arrival & Orientation
Breakfast / Dinner , Airport Pickup Included
Upon arrival into Kilimanjaro International Airport volunteers will be collected by a representative of the local project team and transported to their assigned accommodation where they will join a short welcome session. On Monday, volunteers attend the full orientation session where a representative from the local team will fill you in on local and regional customs, traveling, rules and recommendations, and of course, what to expect from your volunteering experience in Tanzania.  You will be taken on a town tour where you can purchase a SIM card so you can access the internet during your placement (you will need to ensure you have had your phone unlocked before your arrival).  This is a great opportunity to get to know your hosts, meet your fellow volunteers, ask any last questions you may have, and perhaps even start to make those safari trip plans...oh yeah!
Program Arrival Day: SUNDAY
Program Departure Day: SATURDAY
Arrival/Departure Airport: Kilimanjaro International Airport, Tanzania (CODE: JRO)
Accommodation & Meals
Public Hostel / Meals Included
Volunteers on the Animal program in Arusha are accommodated in a modern, comfortable, safe and secure hostel run by our local partner in the Sakina neighbourhood of Arusha, just 25mins walk into the centre of town - or a short ride on the ubiquitous motorbikes or Dala Dala (minibuses).  
Volunteers are housed on their own floor in dormitory style rooms shared between 4 - 6 persons. Rooms are split by gender. Each room has a private bathroom with hot showers (water is a scarce resource in Arusha so enjoy the luxury sparingly!), mosquito netting over each bed and individual lockable storage for valuables.    
A local team member lives on-site at the hostel and is on-hand from 9am - 8pm on weekdays to assist with anything volunteers require. 
Communal areas include a swimming pool, set amongst exotic fruit trees, perfect for cooling off on a hot day and a roof-top terrace where volunteers can relax and enjoy the stunning sunsets. The hostel is set behind a 2 metre high wall and has 24/7 security for peace of mind. Laundry can be done onsite, either in a washing machine for a small fee or by hand.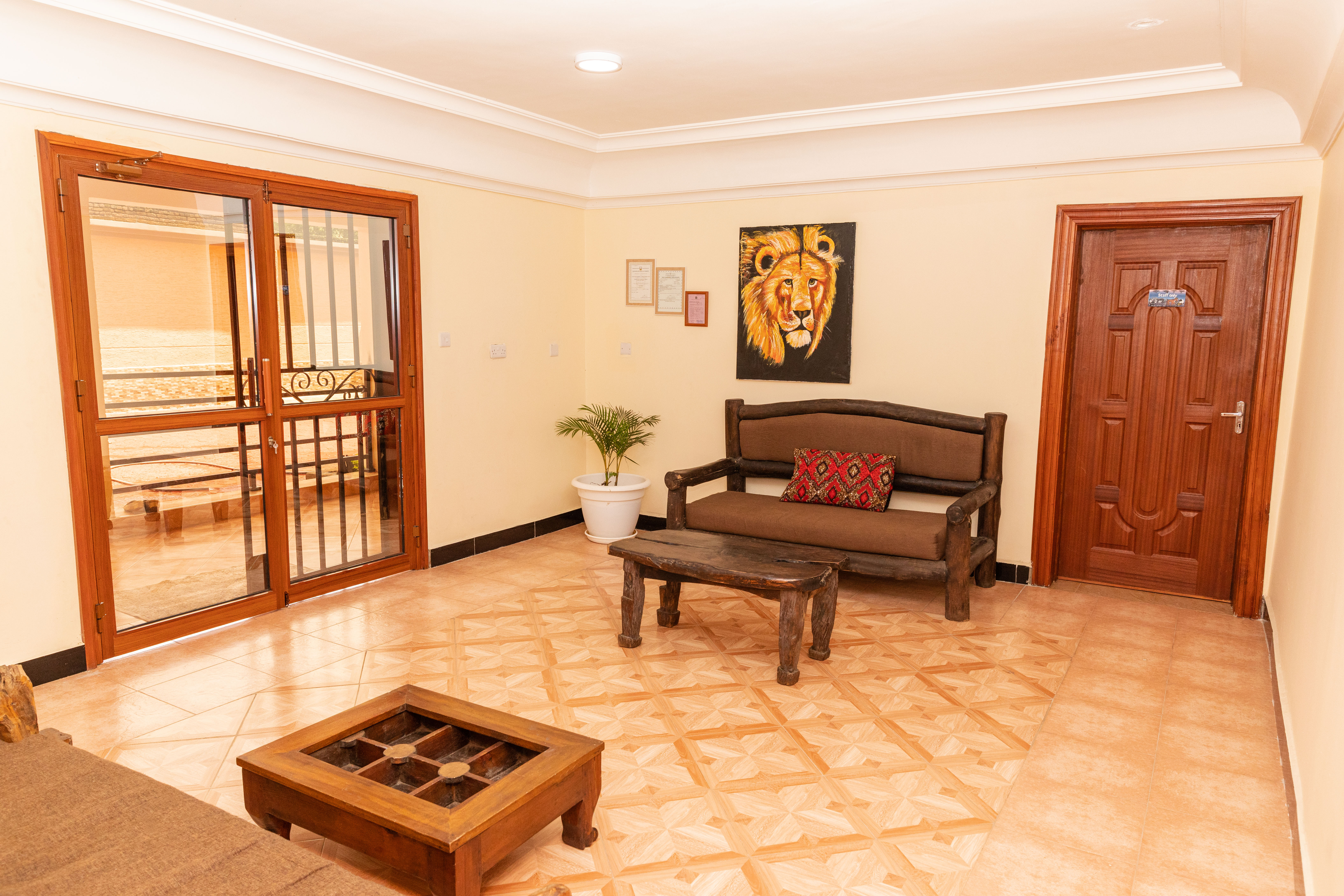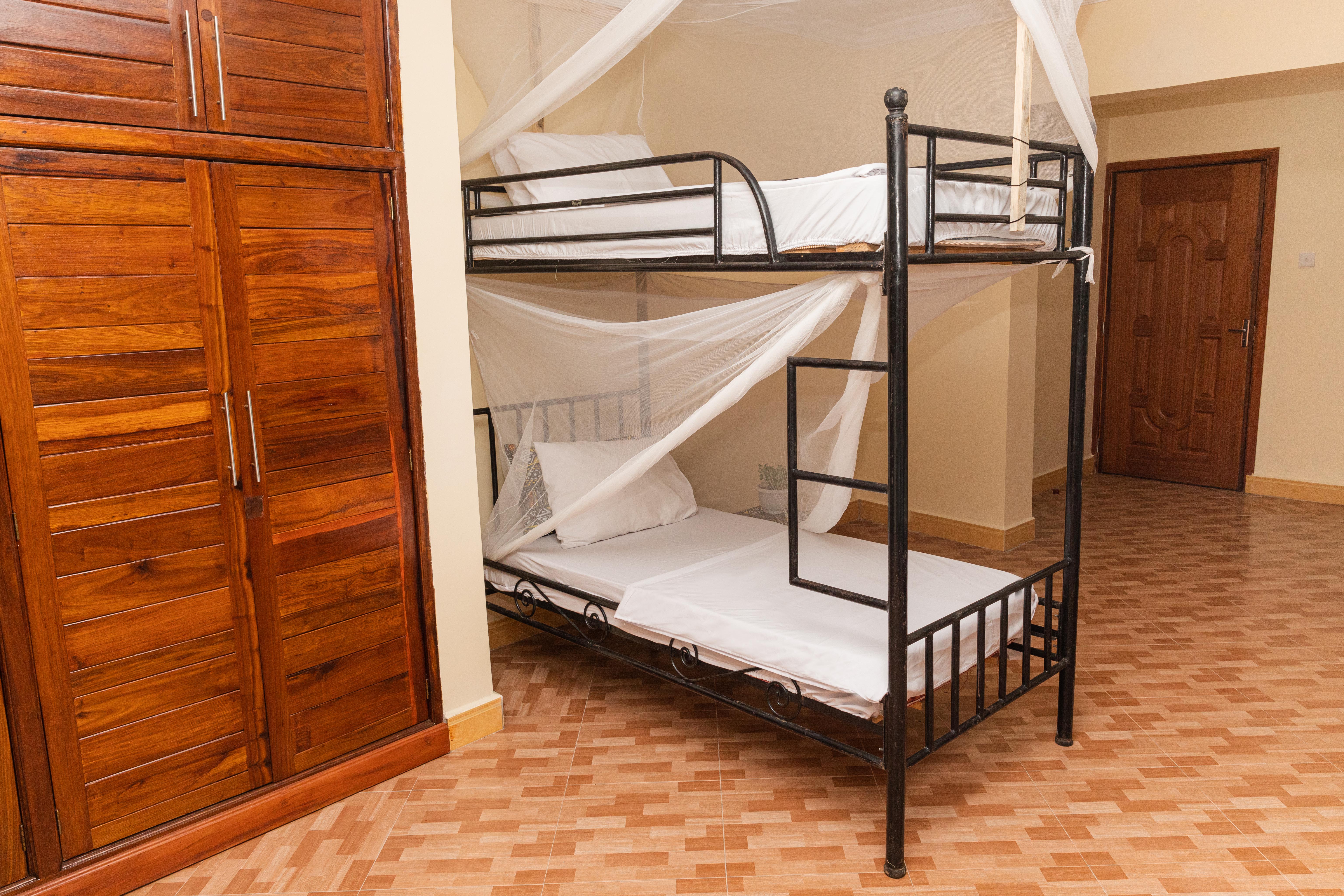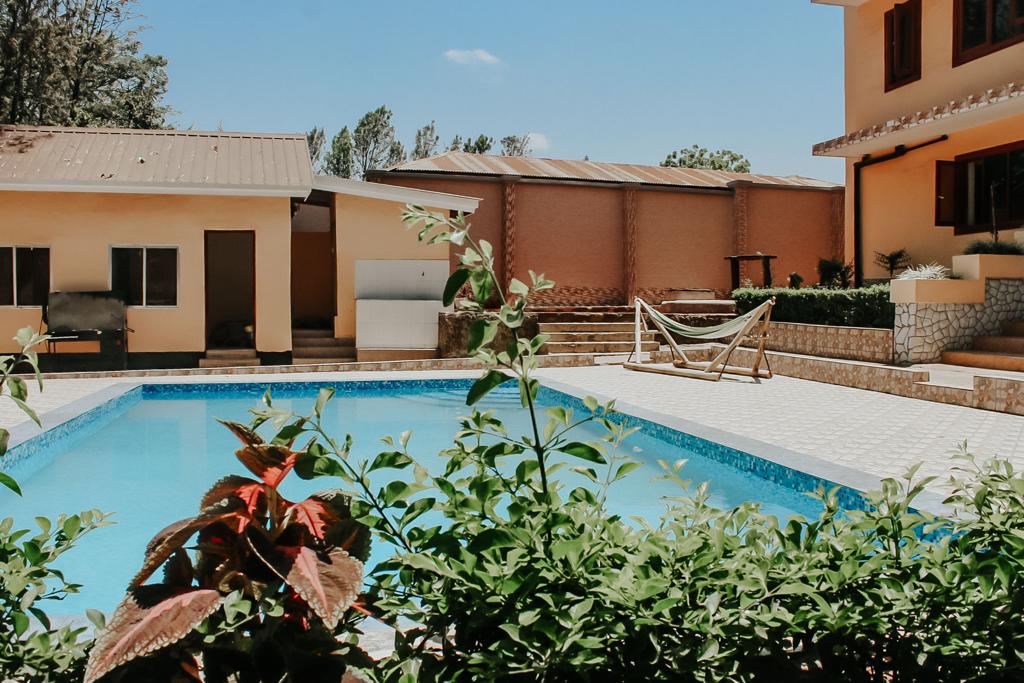 Volunteers are provided two meals per day at the hostel. A cook prepares vegetables, pancakes, eggs and fruit for breakfast. Dinner will be international as your hosts cook both Tanzanian and Western food.

Don't worry if you are vegetarian, vegan or have any allergies, as the local team can cope with these too. The hostel is also equipped with a fridge and shelves to store your own groceries and you are welcome to prepare some of your own meals if you prefer. Easy!
Prefer a private room?
No problem!  We can arrange private rooms at the hostel on request. The additional cost is $120 for the first week and $60 per week thereafter.
That's just
USD 62

per day* for:
*In addition to the program fees listed above a Registration Fee is payable to secure your place. The registration fee is USD 299 for those volunteering with Love Volunteers for the first time or USD 149 for any subsequent volunteer placements. The registration fee includes: lifetime LV Alumni Membership, fundraising support & advice, dedicated pre-departure support, certificate of completion (on request), and exclusive access to the LV Trip Planner.
Some things are not included in the program fees listed above, such as flights, visas, vaccinations, travel insurance, additional foods and snacks, spending money, local transport, in-country trips and excursions, return airport transfer (unless mentioned above).
Please note that prices are subject to change without notice. Please ensure you have read the Love Volunteers Terms and Conditions & Refund Policy.
Important Visa Information
An 'Ordinary Visa for Humanitarian and charity activities' is required
to volunteer in Tanzania. It cost US$50 (US$100 for US-citizen) and can
be obtained on arrival. Our local partner will issue an
'invitation letter' that you need in order to get the right visa. Please
ensure you have sufficient US$ to pay for the volunteer visa on arrival
(notes must be no older than 2009). The visa, which is valid for three
months, can then be renewed for a further three months if required.
Note: All travelers require return or onward tickets, all documents required for their next destination and proof of funds. Currently visitors arriving from infected areas must hold a yellow fever vaccination certificate.
Passport and visa requirements are liable to change at short notice. Travelers are advised to check their entry requirements with their embassy or consulate.
Prefer a private room?
No problem. We can arrange private rooms at the hostel. The additional cost is US$120 for the first week and US$60 per week thereafter.