The Animal Sanctuary Program
This wonderful project was created with the goal of helping to preserve the amazing wildlife of the Amazon. For those with a love for animals and an adventurous spirit – this program offers a fabulous experience. Based at an animal rescue and rehabilitation centre in the Amazon jungle, volunteers work in partnership with an indigenous Quichuan community. The program's mission is to rescue wild animals from unhealthy and illegal situations, such as animal-trafficking and mistreatment. The groups of animals are mainly primates, birds, and reptiles. Volunteer programs of this type in Ecuador – dedicated to animal welfare – are scarce. The centre has over 60 private hectares of prime Amazon forest within which some of the animals can live freely, while others are rehabilitated prior to release. Like all wildlife conservation projects, funding is always low, so volunteers are essential to ensuring this program can continue to operate and help the thousands of Amazonian animals in need of protection and medical assistance.
Goals of this Project:
To rescue the amazing wildlife of the Amazon jungle
Work on projects to improve the environment for the wildlife and their long term prospects
Give medical assistance to animals as required and to ensure their health and wellbeing
Enable inter-cultural exchange between international volunteers and the local Quichuan community.
Volunteers play an integral role in achieving the goals of this project. Like many conservation programs, funds are greatly lacking, and a willing volunteer labor force is essential to its success. Those working on this program need to be animal-lovers as well as physically fit. The work may also involve opportunities to assist with teaching children or helping indigenous families to plant crops. This is a wonderful program that has a direct impact on the lives of the animals in the Amazon.
Volunteers will contribute in a number of ways and can expect to undertake the following tasks:
Assist with working with animals (NOTE: physical contact with wild animals is restricted)
Work on projects to save and protect Amazon wildlife
Assist with teaching children
Participate in helping indigenous families plant crops
Love Volunteers welcomes all those 18 years and over who wish to give their time and energy to help protect and conserve the native wildlife of Ecuador. This project is best suited to those who are either pursuing a career in animal conservation/zoological studies, or who simply wish to explore an interest in this field. However, the project is open to all and does not require participants to have specific education, qualifications or experience, as you will be shown everything you need to know by one of local project leaders. Importantly though, all applicants must first and foremost have a genuine willingness to help, show drive and initiative, and bring a positive 'can-do' attitude. If this sounds like you, we want you on the team!
Additionally, volunteers applying to join this program will be required to supply to following documentation:
Emergency contact
Vaccination Certificate
Project Location
Ecuador, Pastaza Province
This wonderfully intrepid program is set in Pastaza Province in the Oriente of Ecuador and amidst the wild Andean jungle. Projects sites can be somewhat isolated and though travel offsite is often not available to volunteers every day, the local project team will assist volunteers who wish to visit the local town for supplies or to simply get out and explore for the day, which is usually left for their rostered days off. This is once-in-a-lifetime opportunity to live and work in the heart of the Ecuadorian rain forest!
This project is available year-round and programs start every SUNDAY. Volunteers can choose to participate for periods ranging from 2 to 4 weeks. Longer stays can be arranged directly with the local team, but will be subject to availability and individual visa conditions.
For current available start dates please check the calendar on the right.
Arrival & Orientation
Breakfast / Lunch / Dinner , Airport Pickup Included
Upon your arrival in Quito, you will be collected at the airport and delivered to your temporary accommodation. On Monday morning, after making your way to the local project offices, you will receive an orientation to help you settle in, find out about your volunteering placement, the local surroundings and meet your fellow volunteers. A representative from the local team will fill you in on local and regional customs, travelling, rules and recommendations and of course, what to expect from your volunteering experience. This is a great opportunity to get to know your hosts, meet your fellow volunteers, and ask any last questions you may have.
A bus or taxi will be arranged to your assigned project location where you will be met by a member of the onsite project team and settled into your new surroundings. Easy!
Program Arrival Day: SUNDAY
Program Departure Day: SATURDAY
Arrival/Departure Airport: Mariscal Sucre International Airport, Quito, Ecuador (Code: UIO)
Accommodation & Meals
Volunteer House / Meals Included
Volunteers on this project are accommodated onsite in shared cabanas. Each cabana accommodates up to 4 volunteers in single beds. A separate toiletries block is provided for volunteers to use, which includes hot running water and flushing toilets.
A large communal area is provided for volunteers and staff, which includes full kitchen facilities, a large dining area, comfortable couches and hammocks to relax on. Wifi is also available though may be limited at times. This is a wonderful environment to volunteer in and past volunteers have raved about how cool it is to be able to live within the rescue center itself!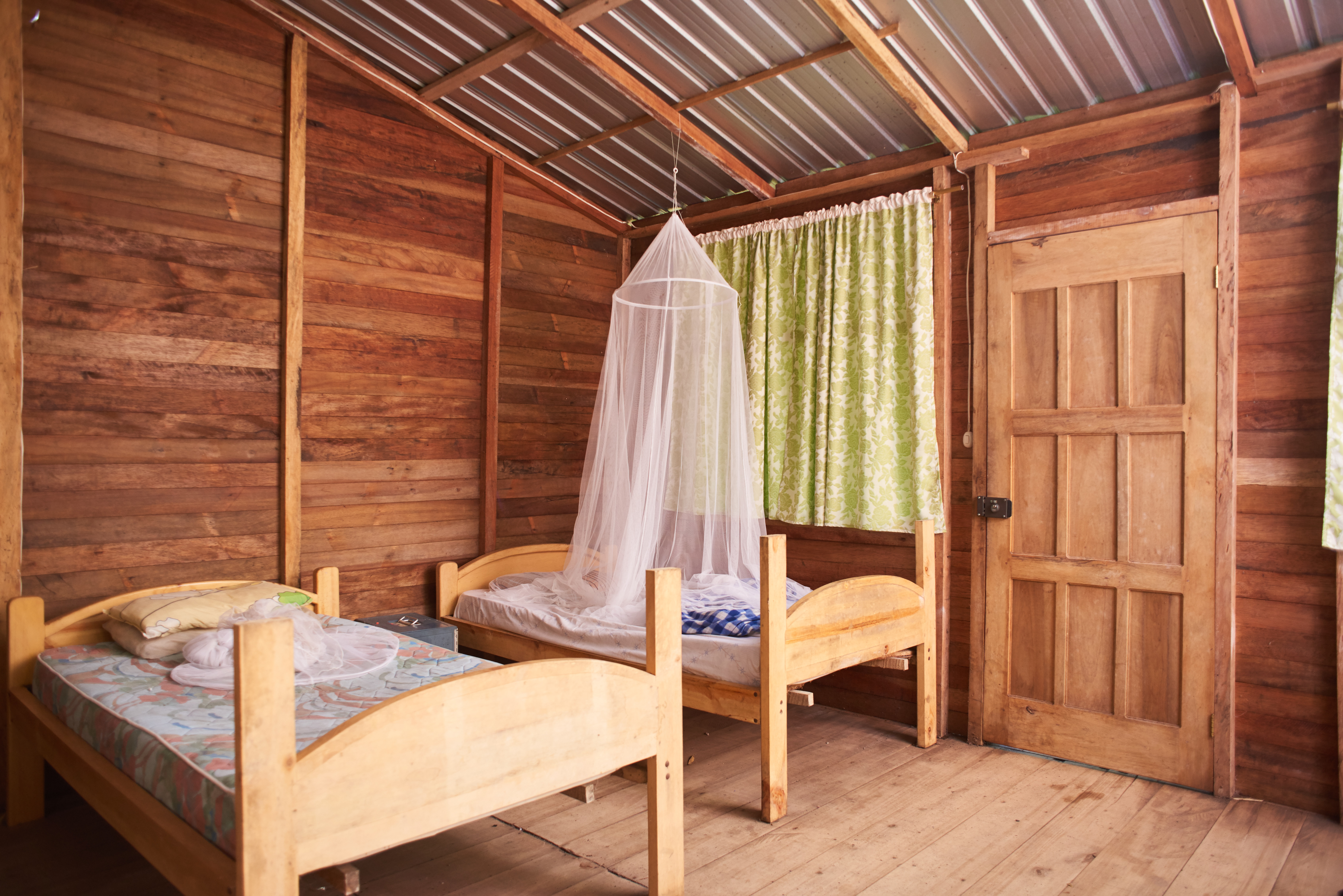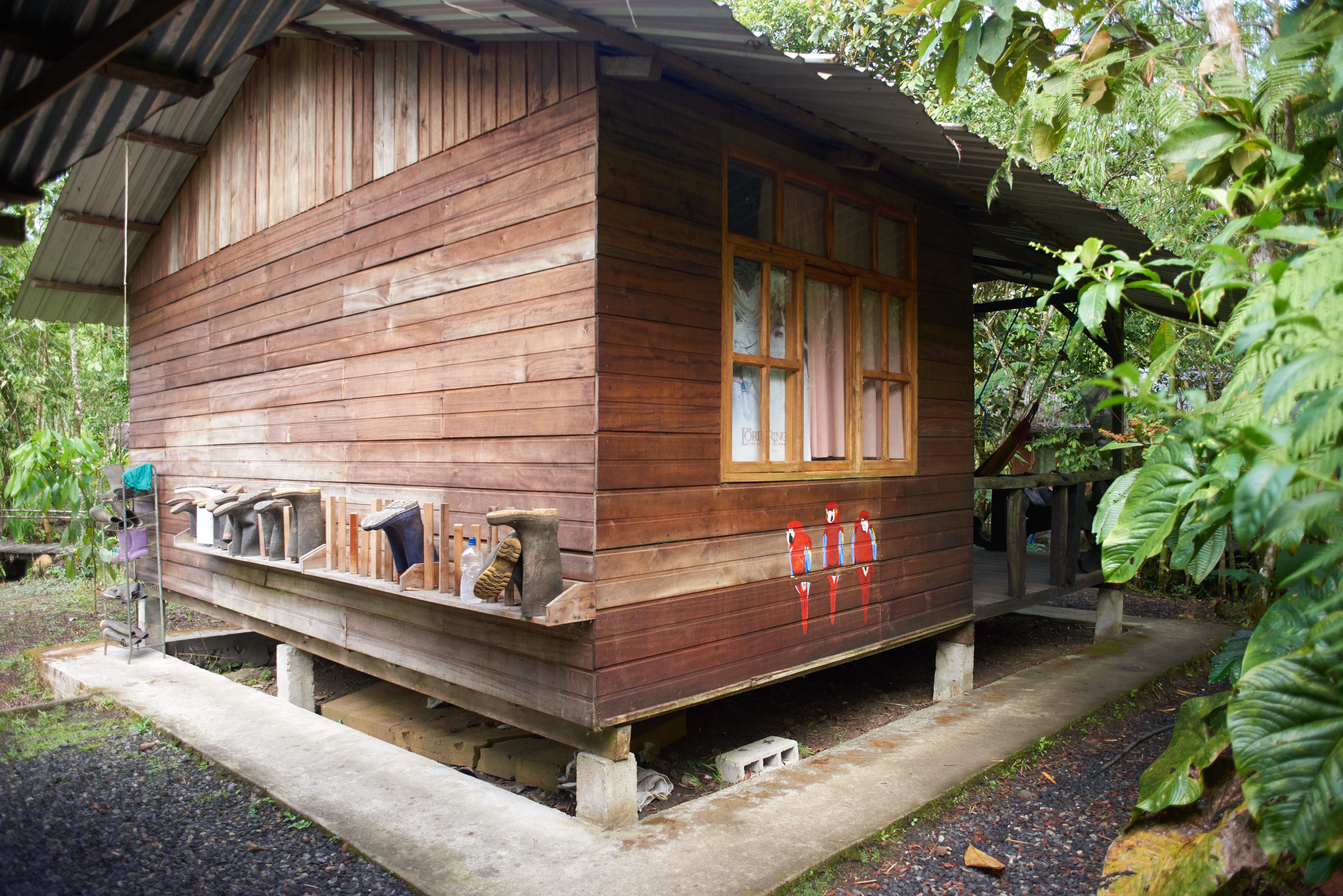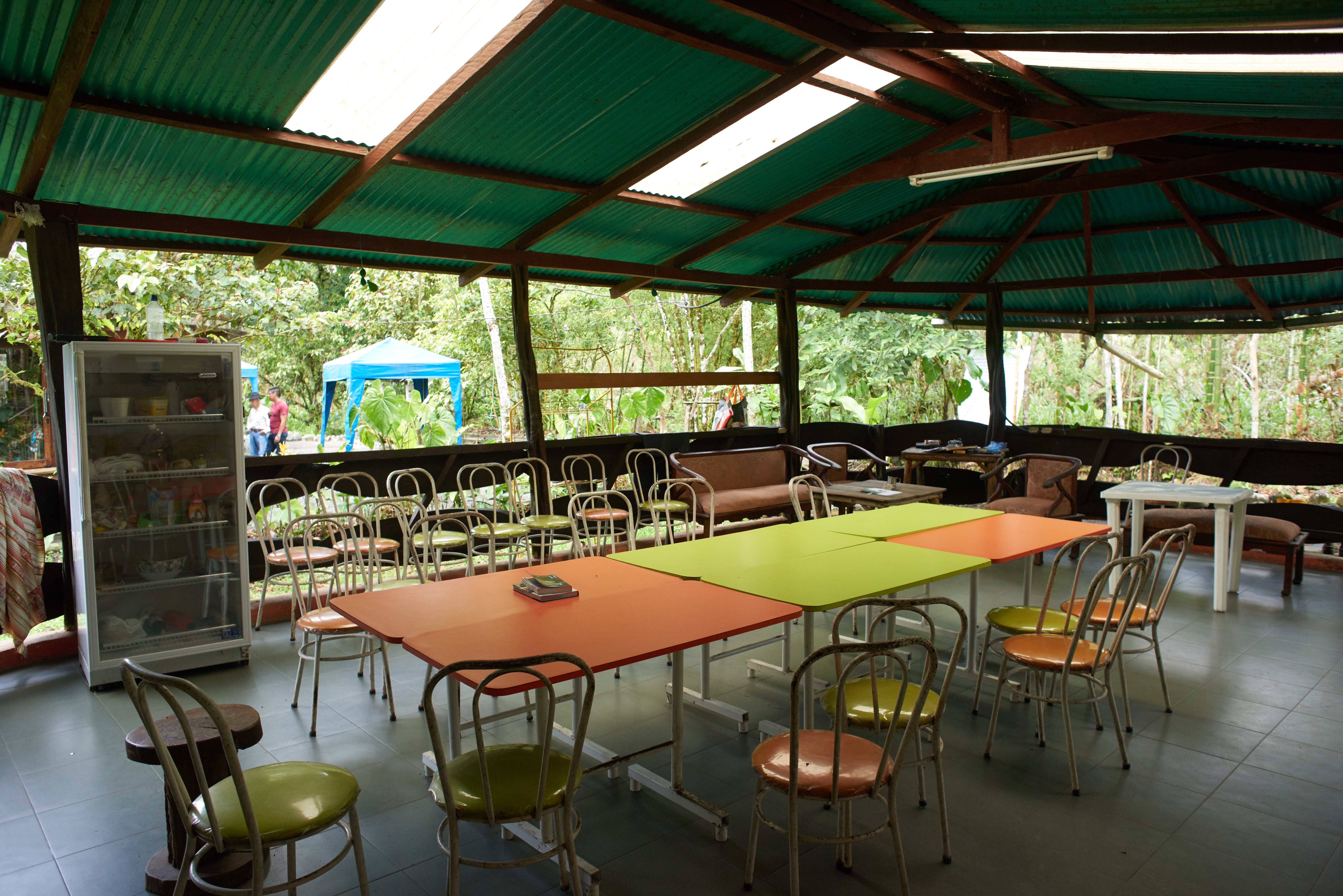 Three meals per day are provided Monday morning to Saturday breakfast. Outside these times volunteers can enjoy a meal out in nearby Puyo or prepare food in the communal kitchen. Typically everyone contributes at meal times – bringing a wonderful 'family' feel to this project. Volunteers are able to make trips to the local town to purchase any additional food items/snacks they desire.
That's just
USD 56

per day* for:
*In addition to the program fees listed above a Registration Fee is payable to secure your place. The registration fee is USD 299 for those volunteering with Love Volunteers for the first time or USD 149 for any subsequent volunteer placements. The registration fee includes: lifetime LV Alumni Membership, fundraising support & advice, dedicated pre-departure support, certificate of completion (on request), and exclusive access to the LV Trip Planner.
Some things are not included in the program fees listed above, such as flights, visas, vaccinations, travel insurance, additional foods and snacks, spending money, local transport, in-country trips and excursions, return airport transfer (unless mentioned above).
Please note that prices are subject to change without notice. Please ensure you have read the Love Volunteers Terms and Conditions & Refund Policy.
Entry procedures in place in response to COVID-19:
All travelers arriving in Ecuador should provide proof of COVID-19 vaccination at least 14 days prior to entry OR
a negative COVID RT-PCR test taken no more than three (3) days before entering the country.
Please note procedures may change at any time. We recommend reaching out to the Ecuadorian embassy or consulate nearest you before traveling for the most updated information.