Volunteer English Program
OPEN NOW!
Honduras has reopened to international arrivals.  See the 'Additional Info.' section for procedures in place during the pandemic.
This amazing project was created with the goal of helping to improve the English speaking abilities of the residents of El Porvenir. The program first opened its doors to the community in 2010 to provide completely free English ​classes for kinder​, ​elementary, teenage and adult students. The ​elementary age ​children​, grades 1-6,​ attend these free classes​ at three locations in the community. ​​The adult program is held in a designated classroom across the street from the public elementary school in el Centro (the centre of town), and preschool classes are provided at the public kinder. Volunteers can work with all age groups and should plan to work 4.5 days each week. As is common in many of the worlds poorer communities, an ability to speak English unlocks a new world of possibilities for children and opens up many professional opportunities for the working-age, often within the service and tourism industries. Access to English tuition is extremely limited for many residents, so this project offers free short-term intensive English classes to enable them to prepare for the job market, school exams, and to simply improve their future prospects.  
Goals of this Project:
Provide free English language classes to the residents of El Porvenir
Improve the future prospects of some of El Porvenir's most impoverished people, and help them to break the poverty cycle
Expose non-English speakers to native English speakers in order to improve pronunciation and conversational skills
Enable inter-cultural exchange which benefits both residents and international volunteers alike.
Volunteers play an integral role in achieving the goals of this project. English speaking international volunteers tend to be great English language teachers as they impart a skill they have effectively spent their entire lives developing, and can effectively teach all the nuances that make up the English language. Because volunteers aren't usually fluent Spanish speakers, local students have no choice but to learn English if they are to communicate and lessons progress quickly, with great results. It is suggested that volunteers have at least a basic level understanding of Spanish prior to arrival, and these skills should quickly develop over the placement period. Volunteers always work in teams and are supported by an in-country Project Manager who assists in planning and preparation. Whilst the project follows a weekly theme and curriculum there is lots of room for creativity in how volunteers choose to work within their groups. Immersion is one of the easiest ways for children to learn a new language, so volunteers are encouraged to teach English in an informal and entertaining manner – often through songs, movement, games and other fun activities.  
Volunteers on this project therefore provide a valid and effective means of English language tuition. They will contribute in a number of ways and can expect to undertake the following tasks:
Teach English to classes of all different age groups from young children - adults
Assist the manager design lesson plans
Network with local residents and local project staff
Monitor students' progress and write debriefs
Love Volunteers welcomes all those 18 years and over who wish to help create a brighter future for children through the power of education. This project best suits those with experience and/or qualifications in the field of childhood development, languages and education, though volunteers who simply wish to explore an interest in this field are also welcomed as there are many ways you can assist in the classroom. Whist not mandatory, completing a TEFL course prior to joining this project would prove to be beneficial. Having a basic understanding of Spanish will help you to communicate effectively with staff and students. While Spanish is a plus, volunteers are accepted at all levels of fluency and Spanish instruction is available locally. Importantly, all applicants must first and foremost have a genuine willingness to help, show drive and initiative, and bring a positive 'can-do' attitude. If this sounds like you, we want you on the team!
Honduras is a beautiful country with amazing people and a rich culture.  With the Caribbean Sea at its doorstep and mountains with tropical waterfalls and cloud forests just to the South, the community of El Porvenir, Atlantida, is a simply stunning place to visit. In their free time, volunteers are free to explore the local area, laze on the white sandy beaches or relax with other volunteers. It's like volunteering in paradise!
This project is available year-round and programs start every SATURDAY. Volunteers can choose to participate for periods ranging from 6 weeks to 12 weeks. Longer stays can be arranged directly with the local team, but will be subject to availability and individual visa conditions.
Spaces on this project are limited and therefore subject to availability. Early booking is recommended.
For current available start dates please check the calendar on the right.
Arrival & Orientation
Self-Catering , Airport Pickup Included
Volunteers fly into San Pedro Sula and catch a connecting local flight or bus to La Ceiba. Volunteers will be picked up at the La Ceiba domestic airport or from the local bus depot. Note that volunteers should try to arrive in-country mid-day so that they can easily travel to La Ceiba by early evening. 
After being collected by the local team's driver, volunteers will be brought directly to the volunteer house to meet the Project Manager and settle into the accommodations. The following morning an orientation is held and the itinerary presented. This includes a walking tour of El Porvenir and covers details of the social and health issues and educational needs of the community. Your project manager will also address safety and health issues, organizational rules and "do's and don'ts" of living and working comfortably in Honduras. This is a great opportunity to get to know your hosts, meet your fellow volunteers and ask any last questions you may have.
Program Arrival Day: SATURDAY
Program Departure Day: SATURDAY
Arrival/Departure Airport: Ramon Villeda Morales International Airport, San Pedro Sula, Honduras (code: SAP)
Pick up provided from La Ceiba Domestic Airport (code: LCE) or local bus depot.  
Accommodation & Meals
Volunteer House / Self Catered
Participants on our programs in Honduras are accommodated in one of two comfortable and secure Volunteer Houses in the seaside town of El Porvenir, just 20 minutes west of La Ceiba.  
The Volunteer Houses provide a home-away-from-home with full kitchen facilities, western-style bathrooms with hot showers, drinking water provided, comfortable rooms and communal areas for relaxing with other volunteers.  Wifi is available for a small fee so keeping in touch with friends and family is easy. Both houses are conveniently located in the 'El Centro' area, within easy walking distance of the beach, local markets and the placement locations.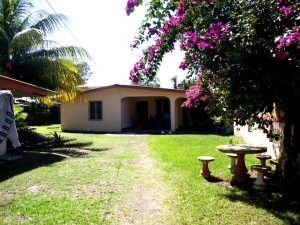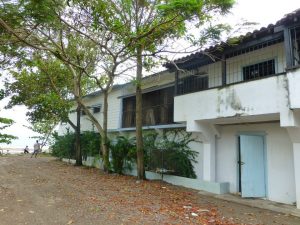 The Volunteer Houses in El Porvenir are well set up for self-catering with volunteers purchasing ingredients from nearby local markets to prepare meals in the fully equipped kitchen or eating out at inexpensive local restaurants on the beachfront. What better way to enjoy authentic Honduran dishes in a great setting!
Conversational Spanish tutoring is available in the evenings.  Just chat to the local team to arrange this. 
That's just
USD 13

per day* for:
*In addition to the program fees listed above a Registration Fee is payable to secure your place. The registration fee is USD 299 for those volunteering with Love Volunteers for the first time or USD 149 for any subsequent volunteer placements. The registration fee includes: lifetime LV Alumni Membership, fundraising support & advice, dedicated pre-departure support, certificate of completion (on request), and exclusive access to the LV Trip Planner.
Some things are not included in the program fees listed above, such as flights, visas, vaccinations, travel insurance, additional foods and snacks, spending money, local transport, in-country trips and excursions, return airport transfer (unless mentioned above).
Please note that prices are subject to change without notice. Please ensure you have read the Love Volunteers Terms and Conditions & Refund Policy.
Changes due to COVID-19 
Honduras has opened its borders to international travellers effective August 17.  All passengers entering Honduras are subject to the following requirements.
Passengers must provide negative COVID-19 test results prior to travel. Travelers must hand-carry the negative test results for a PCR or rapid test taken less than 72 hours before entry into Honduras. Passengers must show the test results at check-in.
All arrivals must then go into quarantine and complete another COVID-19 test within 72 hours of arrival. All quarantine arrangements will be made by our local team.
All travelers must complete the immigration precheck form at https://prechequeo.inm.gob.hn. Travelers must answer all immigration, customs, and health screening questions to receive a confirmation email. Travelers must print and carry this email with them.
Restrictions in place on the program: 
Volunteer numbers will be limited to ensure that the accommodation and placements can be run with adequate precautions
A minimum age of 21 is preferred to ensure that volunteers are sufficiently mature to adhere to the requirements. 
Medical insurance is compulsory.