OPEN NOW!
Volunteer to support disadvantaged youth in the historic city of Philadelphia, USA. Working with an experienced local partner, Love Volunteer's participants will support youth education and well-being while experiencing one of America's most culturally rich cities.
This important program was created with the goal of supporting under-privileged children and their schools, developing resources and safe, sanitary and beautiful learning and cultural spaces they can be proud of! Unfortunately, state-funded schools, especially those in poorer areas, simply don't have the resources to maintain educational and extra-curricular spaces and equipment.  This initiative was developed to put the love back into schools and revamp or develop the spaces needed to help young people thrive.  By providing a calm and encouraging environment to learn, develop and grow you'll be helping change the lives of impoverished children.  Providing the right facilities shows students they are important and improves their self-worth, creating a solid foundation to lead enriched lives.
This diverse program promises to keep volunteers busy across a range of projects and needs.  Volunteers will bring their own experience and strengths that will greatly aid schools provide facilities to help their youth shine.
Goals of this Project:
Provide support to schools and educational facilities 

Improve the prospects of some of the United State's most impoverished children, and help them to break the poverty cycle,

Enable exchange between volunteers and communities that cross cultural, religious and socio-economic barriers 

Keep children in education for longer by supporting their needs 
Volunteers play an integral role in achieving the goals of this project. They provide a much-needed labor force to work directly within classrooms, libraries, school facilities and playgrounds to provide the infrastructure and tools needed to aid student's educational journey. A can-do attitude and tons of enthusiasm and energy is required to fuel volunteers to make a difference.  Volunteers could help on a number of different projects,  including clean ups, painting and maintenance  work, playground and garden development and designing and assembling new spaces for students.  Work could also include simply organising and developing resources and teaching aids in classrooms and libraries, a task over-worked teachers lack time for. Volunteers on this program make a real difference to the lives of children, helping them to achieve a higher education and supporting their developing needs.
Volunteers will contribute in a number of ways and can expect to undertake the following tasks:
Work in classrooms and libraries developing facilities, resources and learning tools

Work around schools and playgrounds to develop or maintain facilities

Work on beautification projects of all scopes and sizes
Love Volunteers welcomes all those 18 years and over who wish to help create a brighter future for children through the power of mentorship and education. This project best suits those with experience and/or qualifications in the field of youth development and education but volunteers who simply wish to explore an interest in this field are also welcomed as there are many ways you can assist.  
Importantly, all applicants must first and foremost have a genuine willingness to help, show drive and initiative and bring a positive 'can-do' attitude. If this sounds like you we want you on the team!
Additionally, volunteers applying to join this program will be required to supply to following documentation:
Emergency contact
Police check
Resume
Philadelphia, known fondly as 'Philly', is the largest city in the state of Pennsylvania and one of the oldest settlements in the US, dating back to 1682.  A Unesco World Heritage City, Philly maintains the charms of its small town roots whilst embracing the glamour and culture of the modern metropolis it has become.
Volunteers work to promote the importance of water quality and ecosystems in the Delaware River, alleviate the underlying causes and results of poverty in missions and food shelters and mentor the city's youth.   
This project is available year-round and programs start every SUNDAY. Volunteers can choose to participate for periods ranging from 1 week to 12 weeks. Longer stays can be arranged directly with the local team, but will be subject to availability and individual visa conditions.
Spaces on this project are limited and therefore subject to availability. Early booking is recommended.
For current available start dates please check the calendar on the right.
Arrival & Orientation
Breakfast , Airport Pickup Included
Volunteers are met on arrival into Philadelphia by our local representative and taken to the hostel to settle in. A welcome dinner for new and current volunteers is a great opportunity to get to know each other!  
Monday is Orientation Day, designed to help volunteers feel supported and comfortable in their new environment. The orientation will cover negotiating the public transport system and will include a visit to the project site and brief introduction by the community partner. 
Arrival Day: SUNDAY 8AM - 8PM
Departure Day: SATURDAY 
Arrival Airport: Philadelphia International Airport (code PHL)
Accommodation & Meals
Public Hostel / Meals Included
Volunteers on this project are accommodated in a popular hostel in downtown Philly.  Within easy walking distance of Market Street, Delaware River and various sights, amenities, restaurants and cafes the hostel is a great base from which to explore the city. 
Volunteers stay in dormitory rooms split by gender. Rooms are shared by 2 - 3 volunteers and each room has its own bathroom. Towels and linen are provided so volunteers need only bring their personal toiletries.
The hostel is well equipped with everything you need for a great stay including lockers (with power outlets), free WiFi & computers, a large modern kitchen and comfortable communal areas for relaxing after a busy day. Laundry facilities are also available at the hostel for a small fee.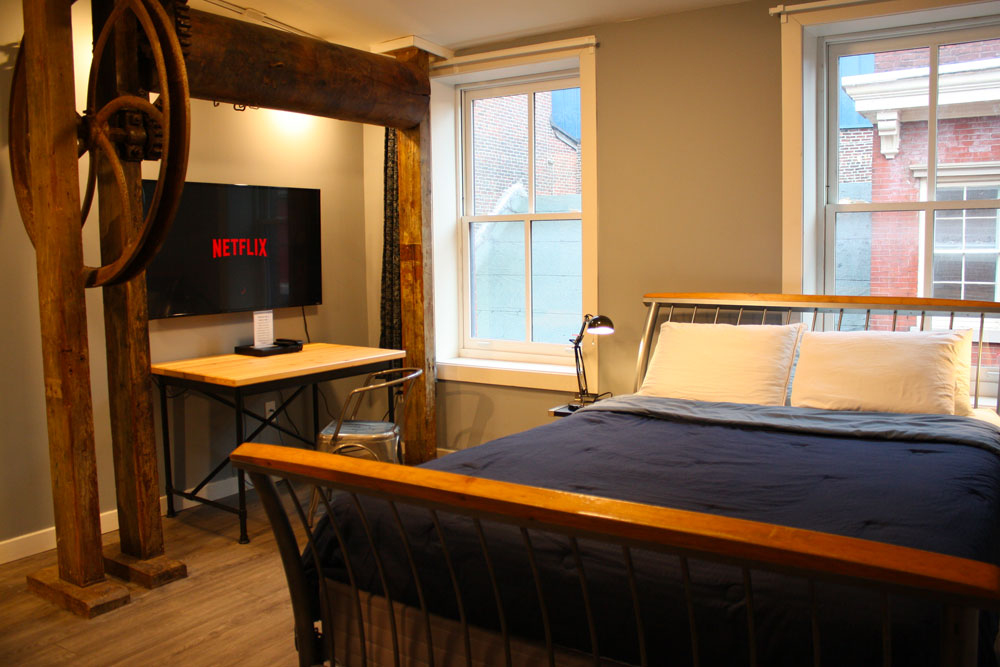 Volunteers are provided with a traditional Philly breakfast every day (included in the program fee). Lunch and dinner can be prepared in the hostel kitchen - or provide a chance to experience the amazing culture and cuisine on offer nearby. Simply get a few of your fellow hostel mates together and head out to one of the many local restaurants, bars or cafes and enjoy all the local and international delicacies on offer! Easy!
That's just
USD 108

per day* for:
*In addition to the program fees listed above a Registration Fee is payable to secure your place. The registration fee is USD 299 for those volunteering with Love Volunteers for the first time or USD 149 for any subsequent volunteer placements. The registration fee includes: lifetime LV Alumni Membership, fundraising support & advice, dedicated pre-departure support, certificate of completion (on request), and exclusive access to the LV Trip Planner.
Some things are not included in the program fees listed above, such as flights, visas, vaccinations, travel insurance, additional foods and snacks, spending money, local transport, in-country trips and excursions, return airport transfer (unless mentioned above).
Please note that prices are subject to change without notice. Please ensure you have read the Love Volunteers Terms and Conditions & Refund Policy.