Cusco Women's Empowerment
The mission of this program is to support the women of the Cusco area who have suffered from abuse. The Women's Empowerment program aims to assist these women who have suffered domestic violence, offering them a refuge to escape the violence and a safe place to re-group and plan for a better life. Most of the women who seek shelter and form part of the program have children so the shelter where volunteers will assist works directly with their children too. The project aims to help with emotional healing as well as teaching skills and helping women to regain control of their lives. Volunteers spend their time caring for the women and children, offering them companionship, skill learning, education and attention. The women have made the first step by leaving the abusive situation, however they now need support to make a better life from themselves. That's where international volunteers come in. The projects are severely understaffed and underfunded, which is why they are in urgent need of staff. Volunteers will find that they can make a real difference to the lives of abused and vulnerable women and children through their participation in this important program.
Goals of this Project:
Provide essential care and support to vulnerable women and children
Improve the future prospects of abused women
Give impoverished women and children quality care, compassion and a sense of hope
Enable inter-cultural exchange which benefits both locals and international volunteers alike
Volunteers play an essential role in helping women and their children suffering
from domestic abuse. Participants will spend their time supporting the women
and their children and assisting the local staff as needed. Some of the women
in the project are adolescents with babies, and volunteers will support them for
a minimum of three afternoons a week. Volunteers make a huge difference to
the lives of these vulnerable people and are truly needed and appreciated at
these projects. Part of the volunteers' responsibilities will be to help the
women with English, support them during the workshops, as well as lend a
hand around the shelter (cooking, cleaning, laundry etc.). Volunteers will also
have the opportunity to organize activities for the women, which is a great
chance to provide skill-oriented training, and will also have the chance to
share their own experiences and insights. Volunteers will have two days off
during the week to explore this amazing location! Cusco is a very welcoming
tourist city, filled with many friendly people, places to see and things to do.
The Plaza de Armas, the heart of the city, is close to where volunteers will be
based, and features a multitude of restaurants, cafes, and bars. Volunteers
can spend their down time exploring this wonderful ancient city.
Volunteers will contribute in a number of ways on this program and can expect to undertake the following tasks:
Support women and children in the shelter
Attend to and interact with the children
Organize activities and provide skill-based training
Assist with the running of the shelter, including cooking, cleaning, laundry etc
Love Volunteers welcomes all those 18 years and over who wish to help us provide support to some of Peru's most marginalized and vulnerable women. While this challenging project does not require participants to have a background in the fields of social work, counselling and/or Women's studies, as there are many ways you can assist, volunteers with suitable education, qualifications or experience are highly sought after. Regardless, a volunteer's individual role can often be tailored to suit their particular skills and interests. Volunteers on this project will need an advanced understanding of Spanish in order to communicate effectively with the women and local staff members. All applicants must of course display a genuine willingness to help, show drive and initiative, and bring a positive 'can-do' attitude. If this sounds like you, we want you on the team!
Additionally, volunteers applying to join this program will be required to supply to following documentation:
Emergency contact
Police check
Resume
This program is hosted in Cusco, high in the Peruvian Andes. Once the capital of the ancient Inca Empire, Cusco is now known as the gateway to the world heritage site of Machu Picchu, for its archaeological remains and its stunning Spanish colonial architecture. Located in the heart of the 'old city' the central square of Plaza de Armas is the areas tourist hub and is filled with cafes, restaurants and dozens of trinket shops to explore, all set among the arcades, carved wooden balconies and Incan wall ruins, including the baroque Santo Domingo Convent which was built on top of the Incan Temple of the Sun (Qoricancha). Cusco is a fascinating city to find yourself in and a wonderful place to experience the challenges and the joys of volunteering. 
This project is available year-round and programs start every SUNDAY. Volunteers can choose to participate for periods ranging from 2 weeks to 12 weeks. Longer stays can be arranged directly with the local team, but will be subject to availability and individual visa conditions.
Spaces on this project are limited and therefore subject to availability. Early booking is recommended.
For current available start dates please check the calendar on the right.
Upon your arrival in Cusco, you will be collected at the airport and delivered to your accommodation, which also serves as the local project base. Here you will receive an orientation to help you settle in, find out about your volunteering placement, the local surroundings and meet your fellow volunteers. A representative from the local team will fill you in on local and regional customs, traveling, rules and recommendations, and of course, what to expect from your volunteering experience. A walking tour of he local area is also provided at around 15:00 hrs every Sunday. This is a great opportunity to get to know your hosts, meet your fellow volunteers, and ask any last questions you may have.
Program Arrival Day: SUNDAY
Program Departure Day: SATURDAY
Arrival/Departure Airport: Alejandro Velasco Astete International Airport, Cusco, Peru (Code: CUZ)
Accommodation & Meals
Host Family / Meals Included
As with all of our wonderful programs in Cusco, volunteers on this project are accommodated with one of our friendly local host families, where breakfast and dinner of traditional Peruvian cuisine are provided daily. All home-stay families have been fully vetted by out local team and are located within a short walk from each other, making hanging out with other volunteers easy. Plus, it is only a 10 minute taxi ride to the tourist heart of Cusco – Plaza de Armas – where a multitude of restaurants, cafes and bars are available. All host families have standard amenities available, including comfortable beds, hot showers and modern bathrooms (Peruvian Starndard). Wi-Fi is also available (additional charges may apply in some cases). All families have experience hosting international volunteers. Depending on the time of year it may be necessary to share a room with other volunteers. Living with a local family truly is the best way to throw oneself into the local culture and to meet people who will become lifelong friends!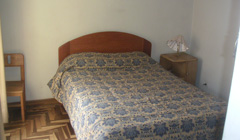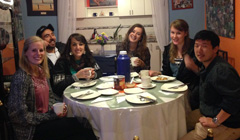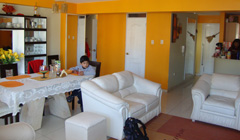 Host families will provide breakfast, lunch and dinner, however it is often easier to buy lunch at a nearby cafe during the week.  Meals are also provided on the weekends if required. Peruvian food is delicious and, yes, different. It is based around rice, potatoes, fish and lots of locally-grown fruit, such as cherimoya, lucuma, citrus fruits and pineapple. Pollo a la Brasa, also known as Peruvian chicken, is one of the most consumed dishes in the country. Originally only seasoned with salt and cooked in charcoal today the chicken is marinated in a "secret" mixture mainly consisting of vinegar, spices, dark beer or soy sauce, and then grilled in specially fabricated Pollo a la brasa ovens. Salsas, sauces or dips are an essential part of the Peruvian cuisine and a must on every table.
For volunteers, staying in Peru means they gain something that mere travelers miss out on: a 'live' authentic glimpse into family life and the character of the people. By having the opportunity to stay with a host family and by working right alongside the local population volunteers can really experience all that Peru has to offer!
Extra nights and arranging your own accommodation are both possible.  Details noted in the Additional Info. section.
That's just
USD 34

per day* for:
*In addition to the program fees listed above a Registration Fee is payable to secure your place. The registration fee is USD 299 for those volunteering with Love Volunteers for the first time or USD 149 for any subsequent volunteer placements. The registration fee includes: lifetime LV Alumni Membership, fundraising support & advice, dedicated pre-departure support, certificate of completion (on request), and exclusive access to the LV Trip Planner.
Some things are not included in the program fees listed above, such as flights, visas, vaccinations, travel insurance, additional foods and snacks, spending money, local transport, in-country trips and excursions, return airport transfer (unless mentioned above).
Please note that prices are subject to change without notice. Please ensure you have read the Love Volunteers Terms and Conditions & Refund Policy.
Want to learn Spanish?
Why not use this opportunity to improve your knowledge of Spanish and really get immersed in the local culture during your volunteering placement? We can offer part time Spanish classes at very competitive rates for you, so simply let us know if you are interested!
Part-time Spanish Lessons (taken in conjunction with volunteer work):
Group Classes (20 hours per week) = USD150
One-on-one Classes (10 hours per week) = USD115
Fees for Spanish Classes must be paid directly to your volunteer coordinator on arrival in Peru.
Wanting to stay for additional nights or arrange your own accommodation in Cusco?
Additional nights accommodation with the host families, including 3 meals daily, is $26 per night.  
Arranging your own accommodation whilst on placement is fine too and the program fee is adjusted to just $88 for all durations.  
Tours and Excursions for Volunteers
During your time in Cusco, why not use the opportunity to explore! If you're looking for an authentic insight into the local culture, or an adventure that takes you 'off-the-beaten-track', you can book an excursion directly with our local partner organization. As a Love Volunteer, not only will you get a discounted price, but every time you take a trip with them, a portion of the fee is donated to one of our local development projects!
Here is some of the options available to volunteers in Cusco:
Cusco City Half-Day Tour - US$15
Sacred Valley Full-Day Hike - US$30
Rainbow Mountain Full-Day Tour - US$45
Lake Titicaca (2-day) Experience - US$85
Machu Picchu Inca Trail Trek (4-Days) - US$650
Machu Picchu Inca Trail Trek (2 Days) - US$530
Machu Picchu by Train (1 Day) - US$290
Machu Picchu by Train (2 Day) - US$340
Package Deal (3 Days) - Cusco Half-Day Tour + Sacred Valley Tour + Machu Picchu by Train (1 Day) - US$330
*Discounts available to Love Volunteers alumni only. Bookings are made directly with the local team after a place on the program has been confirmed. Spaces subject to availability.