For Spanish-speaking nature lovers with a passion for rehabilitating animals back into their natural habitats – this program is for you!  Volunteering in the largest zoo in Nicaragua, participants will find this busy and varied program to be a wonderful experience in amazing central America. Based near the city of Granada, this program places volunteers in the National Zoo and Fazoonic Rescue Center, focusing on animal care, rehabilitation and maintenance. Many of the animals brought into the Rescue Center have been seized from illegal poachers and are in dire need of medical attention and care. While there is a huge amount of animal care in this role, the Zoo and Rescue Center is focused on keeping human contact to a minimum and returning rescued animals back into their natural habitat. Handling of animals therefore is kept to a minimum. The Zoo plays an important role in education and scientific research so those volunteers with a passion for these fields will be in their element. The zoo also has a butterfly garden that simulates the life of these insects in the wild and houses thousands of butterflies from four different species.
Goals of this Project:
Provide medical attention and rehabilitation to animals who have been injured or taken from their natural habitat

Provide quality care to zoo and rescued animals

Help to educate the public on animals, the environment and issues such as illegal poaching

Carry out scientific research to better understand animals, their natural habitat and issues they face
Volunteers on this essential animal care and education program at the National Zoo and Fazoonic Rescue Center will find they are busy with a multitude of tasks required to ensure quality care and education programs are delivered. Participants can choose to work in four areas such as food preparation, vermiculture, education for the general public (which is why Spanish language skills are essential) or maintenance and care of the facilities. This zoo and rescue center is the largest in Nicaragua and houses over 600 hundred species of animals. Some animals in this zoo are rescued from poachers or have been kept illegally as pets. Some are endangered species indigenous to the forests of Nicaragua and some are species from other parts of the world that were illegally imported as pets. Participants will find the program challenging however extremely worthwhile. Volunteers on this program will be expected to 'muck in' and help on any task so must bring with them a positive attitude and a willing and compassionate nature.
Volunteers will contribute in many ways and can expect to undertake the following tasks:
Preparing meals for the animals

Playing educational games with visitors

Assisting staff with small and simple classes during the visits

Cleaning up after children have visited

Helping with maintenance of the center (painting walls, administrative tasks, etc)
Love Volunteers welcomes all those 18 years and over who wish to give their time and energy to help protect and conserve the native wildlife of Nicaragua. This project is best suited to those who are either pursuing a career in animal conservation/zoological studies, or who simply wish to explore an interest in this field. However, the project is open to all and does not require participants to have specific education, qualifications or experience, as you will be shown everything you need to know by one of local project leaders. Importantly though, all applicants must first and foremost have a genuine willingness to help, show drive and initiative, and bring a positive 'can-do' attitude. If this sounds like you, we want you on the team!
Additionally, volunteers applying to join this program will be required to supply to following documentation:
Emergency contact
Passport
Police check
Located on the shores of Lake Nicaragua, Granada is home to multiple Spanish colonial landmarks that have survived repeated pirate invasions. The city's main plaza, Central Park, is dominated by the colorful, neoclassical facade of the Cathedral of Granada, originally dating to 1583. The Centro Cultural Convento San Francisco nearby is famed for its displays of pre-Columbian statues.
Granada's restaurants have received international recognition by newspapers like the New York Times. In the city of Granada, there are many restaurants to visit and in recent years, the cities evolving culinary scene mixes local and international flavors, as well as supporting farm-to-table sustainability of local growers and producers. Granada's economy continues to grow in big part because it is fast becoming a tourist attraction for its colonial architecture, as well as its ecological beauty and now as a food destination. This is a fantastic place to be a Love Volunteer!
This project is available year-round and programs typically start every 1st and 3rd SUNDAY of each month. Volunteers can choose to participate for periods ranging from 4 weeks to 12 weeks. Longer stays can be arranged directly with the local team, but will be subject to availability and individual visa conditions.
Spaces on this project are limited and therefore subject to availability. Early booking is recommended.
For current available start dates please check the calendar on the right.
Upon your arrival in Managua, you will collected at the airport by a member of the local project team and taken to your accommodation in Granada. Here you will be welcomed by your host family and settled into your new surroundings. 
On Monday morning you will be collected and taken to the local team offices where you will receive a full project and safety orientation. A representative from the local team will fill you in on local and regional customs, traveling, rules and recommendations, and of course, what to expect from your volunteering experience. This is a great opportunity to get to know your hosts, meet your fellow volunteers, and ask any last questions you may have. You will then be taken to your projects site where you will be introduced to the onsite project team, ready to start work. Easy!
Project Arrival Day: SUNDAY (7am to 10pm)
Project Departure Day: SATURDAY
Arrival Airport: Augusto C. Sandino International Airport, Managua, Nicaragua (Code: MGA)
NOTE: If you are arriving on a flight after 10pm there is an extra charge of
US$100 for the airport pickup)
Accommodation & Meals
Host Family / Meals Included
Volunteers in Nicaragua will stay with a local family which is a great way to be immersed in the culture. All families have been fully vetted by our local team and have experience hosting international volunteers. The home-stays are in safe neighborhoods, and are within a 15 to 25-minute walk or 5 to 10-minute bus ride from the project sites. All families have been fully vetted by our local team and have extensive experience hosting international volunteers. Depending on the time of year it may be necessary to share a room with other volunteers, but private rooms are often available upon request (additional fees may apply). Volunteers will be provided access to a shared bathroom. Host families are often happy to wash clothes for volunteers for a small fee to cover the additional electricity, though mostly volunteers will use a local laundromat. Wifi is available at most host family houses, however we ask volunteers to remember access to this service is a privilege and may be limited at times. A multitude of internet cafes are available throughout Granada.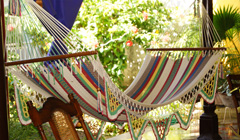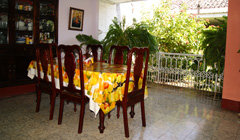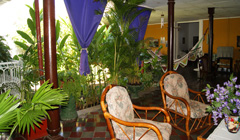 Breakfast and dinner will be provided throughout the placement, including weekends. Nicaraguan food typically centers on the key ingredients of corn, chillies and beans. A traditional dish is tamale which consists of a starchy corn-based dough wrapped in a leaf and steamed. Volunteers in Nicaragua have the opportunity to savor these and other delights in the homes of ordinary local people famed for their friendly dispositions.
That's just
USD 33

per day* for:
*In addition to the program fees listed above a Registration Fee is payable to secure your place. The registration fee is USD 299 for those volunteering with Love Volunteers for the first time or USD 149 for any subsequent volunteer placements. The registration fee includes: lifetime LV Alumni Membership, fundraising support & advice, dedicated pre-departure support, certificate of completion (on request), and exclusive access to the LV Trip Planner.
Some things are not included in the program fees listed above, such as flights, visas, vaccinations, travel insurance, additional foods and snacks, spending money, local transport, in-country trips and excursions, return airport transfer (unless mentioned above).
Please note that prices are subject to change without notice. Please ensure you have read the Love Volunteers Terms and Conditions & Refund Policy.