This essential volunteer program was established with the aim to make a real difference to the lives of the impoverished people of La Ceiba by supplying dental services they would otherwise be unable to access. Unfortunately, the public health care system in Honduras is one of the worst in Latin America, resulting in hospitals that are under resourced and poorly equipped, and the large dental department within La Ceiba's largest full-service public hospitals is no exception. Many are simply unable to afford treatment, resulting in treatable oral diseases being left untreated, worsening and resulting in infections and serious medical conditions. This program makes a real difference to the lives of the most vulnerable in society by providing free dental treatment, preventative care and education, changing the lives of the most vulnerable. Volunteers who are registered dental nurses or dental assistants, dental students or qualified dental care professionals are invited to take up placements in Honduras where their skills are desperately needed. This dental internship program places volunteers with a supervising dentist or dental nurse as they carry out their daily workload. Responsibilities vary according to their own qualifications, experience and/or comfort level. 
Goals of this Project:
Make a real difference to the people of La Ceiba
Provide dental care to those who need it most
Improve the health and long term wellbeing of some of Honduras' most impoverished people
Promote an exchange of ideas and knowledge between international volunteers and local staff. 
This volunteer program makes a huge difference to the lives of those in need of dental care. Interns who have completed their studies and have experience in the field dentistry can work alongside local staff to provide much needed dental care for the people of La Ceiba.
Dental students will be able to observe dentists and provide assistance with cleanings, check-ups, extractions and restorative care. Hygienists will be able to assist with children and provide  oral hygiene instruction. Pre-dental students will be able to shadow local professionals, help manage patients and assist with record keeping and maintaining instruments
In order to enable proper interaction with both staff and patients at the clinics, it is essential that volunteers have at least an intermediate level of Spanish - a prerequisite for participation on this program. A language immersion option is also available and volunteers on this program are able to customize their schedule to combine a half day in the dental clinic and a half day of Spanish instruction (see Additional Info).This is a great way for volunteers to improve the health of those who need it and improve their Spanish language skills.
Volunteers contribute in a number of ways on the program and can expect to undertake the following tasks, dependent on skills and training:
Directly assist dentists in their work
Preparing and sterilize equipment
Carry out cleaning and maintenance duties
Visit public schools to educate children about oral hygiene
Network with local residents and local project staff.
Requirements
18yo+ / Qualification / Experience
This program offers an amazing opportunity for suitable applicants who are 18 years and over to work alongside qualified dental professionals and gain first-hand insight into the Honduran dental healthcare system.
Placement in the dental clinic is available to dentists and hygienists as well as pre-dental and dental students and hygienists-in-training. This clinic is in a large public hospital in La Ceiba and is typically understaffed and in need of assistance.
Volunteers on this project will need at least an intermediate understanding of Spanish in order to communicate effectively with patients and staff. Naturally, all applicants must also have a genuine willingness to help, show drive and initiative, and bring a positive 'can-do' attitude. If this sounds like you, we want you on the team!
Note that Volunteers need to provide their own supplies where possible such as scrubs, gloves, hand sanitizer, and basic hand instruments.
Additionally, volunteers applying to join this program will be required to supply to following documentation:
Emergency contact
Police check
Resume
Honduras is a beautiful country with amazing people and a rich culture and with the Caribbean Sea at its doorstep, and mountains with tropical waterfalls and cloud forests just to the South, the community of El Porvenir is a simply stunning place to visit. In their free time, volunteers are free to explore the local area, laze on the white sandy beaches or relax with other volunteers. Its like volunteering in paradise!
This project is available year-round and programs start every SATURDAY. Volunteers can choose to participate for periods ranging from 1 week to 12 weeks. Longer stays can be arranged directly with the local team, but will be subject to availability and individual visa conditions.
Spaces on this project are limited and therefore subject to availability. Early booking is recommended.
For current available start dates please check the calendar on the right.
Arrival & Orientation
Airport Pick Up Not Included
Volunteers fly into San Pedro Sula and catch a connecting local flight or bus to La Ceiba. Volunteers will be picked up at the La Ceiba domestic airport or from the local bus depot. Note that volunteers should try to arrive in-country mid-day so that they can easily travel to La Ceiba by early evening. 
After being collected by the local team's driver, volunteers will be brought directly to the volunteer house to meet the Project Manager and settle into the accommodations. The following morning an orientation is held and the itinerary presented. This includes a walking tour of El Porvenir and covers details of the social and health issues and educational needs of the community. Your project manager will also address safety and health issues, organizational rules and "do's and don'ts" of living and working comfortably in Honduras. This is a great opportunity to get to know your hosts, meet your fellow volunteers and ask any last questions you may have.
Program Arrival Day: SATURDAY
Program Departure Day: SATURDAY
Arrival/Departure Airport: Ramon Villeda Morales International Airport, San Pedro Sula, Honduras (code: SAP)
Pick up provided from La Ceiba Domestic Airport (code: LCE) or local bus depot.  
Accommodation & Meals
Volunteer House / Self Catered
Participants on our programs in Honduras are accommodated in one of two comfortable and secure Volunteer Houses in the seaside town of El Porvenir, just 20 minutes west of La Ceiba.  
The Volunteer Houses provide a home-away-from-home with full kitchen facilities, western-style bathrooms with hot showers, drinking water provided, comfortable rooms and communal areas for relaxing with other volunteers.  Wifi is available for a small fee so keeping in touch with friends and family is easy. Both houses are conveniently located in the 'El Centro' area, within easy walking distance of the beach and local markets.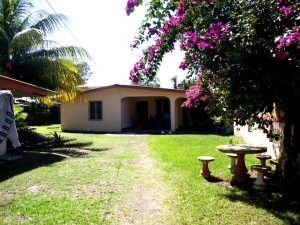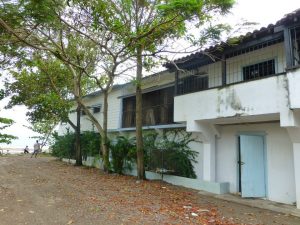 The Volunteer Houses in El Porvenir are well set up for self-catering with volunteers purchasing ingredients from nearby local markets to prepare meals in the fully equipped kitchen or eating out at inexpensive local restaurants on the beachfront. What better way to enjoy authentic Honduran dishes in a great setting!
Conversational Spanish tutoring is available in the evenings.  Just chat to the local team to arrange this. 
Dental interns are transported daily from the volunteer accommodation to their placement site in central La Ceiba. They then catch the public bus back to the accommodation, stopping right outside the volunteer house. EASY!
That's just
USD 46

per day* for:
*In addition to the program fees listed above a Registration Fee is payable to secure your place. The registration fee is USD 299 for those volunteering with Love Volunteers for the first time or USD 149 for any subsequent volunteer placements. The registration fee includes: lifetime LV Alumni Membership, fundraising support & advice, dedicated pre-departure support, certificate of completion (on request), and exclusive access to the LV Trip Planner.
Some things are not included in the program fees listed above, such as flights, visas, vaccinations, travel insurance, additional foods and snacks, spending money, local transport, in-country trips and excursions, return airport transfer (unless mentioned above).
Please note that prices are subject to change without notice. Please ensure you have read the Love Volunteers Terms and Conditions & Refund Policy.
Want to learn Spanish?
Why not use this opportunity to improve your knowledge of Spanish and really get immersed in the local culture during your volunteering placement? We can offer part time Spanish classes at very competitive rates for you, so simply let us know if you are interested!
Part-time Spanish Immersion Program (taken in conjunction with volunteer work):
Alternatively translators may be available at a cost of $2.50 per hour.
Fees for Spanish Classes must be paid directly to your volunteer coordinator on arrival in Honduras.