This wonderful program aims to make the lives of vulnerable children better. Its mission is to simply provide quality care for some of the most impoverished children of Ghana. Working at a children's care center in Ghana is likely to be one of the most challenging and rewarding experiences of a volunteers life. In community-care centers, volunteers assist in caring for destitute children, some of whom have lost their parents to HIV/AIDS. Volunteers will provide hands on care to children, assisting them with their daily needs, and also spend time playing and interacting with children in dire need of love and attention. With community centers grossly underfunded and under resourced, volunteer labor is essential to continue to provide care to these children, and help them to lead happy and healthy lives. By being there to offer care and compassion, volunteers are making a huge impact on the lives of these wonderful children.
Goals of this Project:
Provide essential childcare to vulnerable children in Ghana
Improve the future prospects of the children in Ghana
Give impoverished children quality care, compassion and a sense of hope
Enable inter-cultural exchange which benefits both locals and international volunteers alike.
Volunteers play an essential role in helping disadvantaged children through this program.  Participants will spend their time taking care of children and assist the local staff as needed.  Volunteers will be busy working with the children, helping feed them and other care essentials, playing games and are encouraged to use their skills and interests to develop fun things for the children to do.  The day to day tasks include helping at meal times with cooking, cleaning and feeding the younger kids; arranging games and fun activities; helping the school age children with their homework; monitoring the cleanliness of all the children, bathing and getting the younger kids dressed, and teaching good hygiene habits. Volunteers can also assist with some teaching as many of the school children would benefit from one on one tutoring. There may also be basic building and repair work to be done at the center.
Volunteers will contribute in a number of ways on this program and can expect to undertake the following tasks:
Help to feed and care for the children
Attend to, play and interact with the children
Create activities and entertain the children with games and songs, etc
Love Volunteers welcomes all those 18 years and over who wish to assist in the development of Ghana's next generation. While this highly rewarding project does not require participants to have a background in the field of childcare, as there are many ways you can assist, volunteers with suitable education, qualifications or experience are highly sought after. Regardless, a volunteer's individual role can often be tailored to suit their particular skills and interests. Ideally, volunteers on this project will have at least a basic knowledge of the local language in order to communicate effectively with staff and students, though this is not a pre-requisite. All applicants must of course display a genuine willingness to help, show drive and initiative, and bring a positive 'can-do' attitude. If this sounds like you, we want you on the team!
Additionally, volunteers applying to join this program will be required to supply to following documentation:
Emergency contact
Police check
Accra is a Coastal city and the capital of Ghana, with a mixture of modern buildings, shanty towns, occasional castle and lively markets.  Its population is estimated at just below 3 million. The central commercial hub is around the Makola Market. Just south of the market is the Atlantic ocean (Gulf of Guinea). Accra's shanty towns are mostly to the west of the city center. East of the city center and north towards the Kotoka international airport, is where you'll find most of the hotels, embassies and smarter residential areas.
Among the highlights of Accra are the National Museum, with its display of exhibits that reflect the heritage of Ghana, the National Theater, the Center of National Culture, Independence Square and the fishing port at James Town. The beaches of the Atlantic coast are popular with visitors and Ghanaians alike.
Kumasi, known as "The Garden City" thanks to its many beautiful species of flowers and plants, Kumasi is the capital city of the Ashanti region of Ghana. It's surrounded by rolling green hills and has a vast central market as vibrant as any in Africa.
The cities major attraction is the National Cultural Centre, a 10-minute walk west of the market. The sprawling complex encompasses a fascinating museum of Ashanti history, a popular library, an excellent crafts shop and an exhibition hall. Classes in traditional dance and drumming are available.
In the villages around Kumasi, artisans specialize in crafts such as goldsmithing, wood carving, cloth printing and weaving. Bonwire is the place to go for kente cloth, Pankrono is best for pottery, Ahwiaa for woodcarving and Ntonso for adinkra cloth.
This project is available year-round and programs start every SUNDAY. Volunteers can choose to participate for periods ranging from 1 week to 12 weeks. Longer stays can be arranged directly with the local team, but will be subject to availability and individual visa conditions.
Spaces on this project are limited and therefore subject to availability. Early booking is recommended.
For current available start dates please check the calendar on the right.
Upon your arrival in Ghana you will collected at the airport (Kotoka Int. Airport) by a representative of the local team and taken to your host family accommodation. Here you will be welcomed and settled into your new surroundings. 
Volunteers will have a full arrival orientation given by a member of the local team the next day after arrival.
They will fill you in on local and regional customs, traveling, rules and recommendations, and of course, what to expect from your volunteering experience. This is a great opportunity to get to know your hosts, meet your fellow volunteers, and ask any last questions you may have. You will then be taken to your projects site where you will be introduced to the onsite project team and settled into your project work. Easy!
Project Arrival Day: SUNDAY
Project Departure Day: SATURDAY
Arrival/Departure Airport: Kotoka International Airport, Accra, Ghana (CODE: ACC)
Accommodation & Meals
Host Family / Meals Included
Volunteers on this program will be accommodated with a local host family, and will gain the opportunity to become immersed in the local culture and custom, improving their knowledge of the people, culture and language. Ghanaian families are renowned for their kindness and hospitality and they love to learn about different cultures. Living with a local family truly is the best way to throw oneself into the local culture and to meet people who will often become lifelong friends!
All families have been fully vetted by our local team and have extensive experience hosting international volunteers. Depending on the time of year it may be necessary to share a room with other volunteers, but private rooms are often available upon request (additional fees may apply). Volunteers will be provided access to a shared bathroom. Host families are often happy to wash clothes for volunteers for a small fee to cover the additional electricity, though mostly volunteers will use a local laundromat. In either case you can expect to pay a small amount for the service. Alternatively, you can do your own washing, but remember that washing machines are not common so you'll likely have to use the tub or wash basin.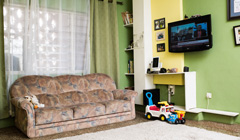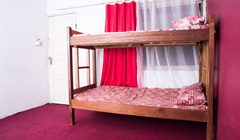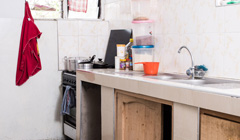 Host families will provide volunteers with breakfast and dinner during the working week. Lunch is not included but can be purchased at a nearby café while at your project site – a wonderful opportunity to try the many cheap and tasty local food options!
It is important to remember that the living conditions in Ghana are different from home. Most families have running water, but hot water is still uncommon in some areas. Although the accommodation is basic, this is part of the challenge and experience of volunteering in a developing country. With a little patience, and a flexible attitude, you will quickly get used to your new surroundings.
That's just
USD 36

per day* for:
*In addition to the program fees listed above a Registration Fee is payable to secure your place. The registration fee is USD 299 for those volunteering with Love Volunteers for the first time or USD 149 for any subsequent volunteer placements. The registration fee includes: lifetime LV Alumni Membership, fundraising support & advice, dedicated pre-departure support, certificate of completion (on request), and exclusive access to the LV Trip Planner.
Some things are not included in the program fees listed above, such as flights, visas, vaccinations, travel insurance, additional foods and snacks, spending money, local transport, in-country trips and excursions, return airport transfer (unless mentioned above).
Please note that prices are subject to change without notice. Please ensure you have read the Love Volunteers Terms and Conditions & Refund Policy.