Bush Conservation Australia
OPEN NOW for Australian residents!  Borders are closed to international arrivals.
Join Love Volunteers, in partnership with dedicated local organizations, on this unique week long conservation experience deep in the Australian bush!
Volunteers on this incredible program live on-site in a tropical wetland reserve, assisting with the active management of wildlife species in the area. The facility where volunteers live and work has been established to protect the wonderful wild spaces of Australia; recognising the cultural history, diversity and biological importance of these vast landscapes.
The reserve is home to more than two hundred species of birdlife, several of which are endangered, as well as many of Australia's iconic marsupials. This program is a critical collaboration between volunteers and researchers aimed at collating medical and rehabilitation data for use in combating the threat of diseases common to North Australian species. The facility also provides medical attention and refuge to rescued wildlife, particularly focused on the preservation of threatened species.
A truly remarkable, once in a lifetime opportunity to be immersed in the vast Australian tropical bush, contributing to the preservation of native wildlife and learning about this diverse and culturally rich habitat!
Goals of this Project:
Monitor animal behaviour, health, biology and population numbers
Collate and share data critical to the preservation of endangered and threatened native species
Rehabilitate and release injured and ill animals
Facilitate cultural exchange and share the importance of preserving precious animal species
Australia's remote Far North is home to thousands of incredible animal species but, sadly, there is no formal process in place to monitor and record critical information such as health, population, rehabilitation and biology data.  This is where this project and a willing volunteer workforce come in!
Set up by an inspiring Australian charity the facility this project supports has both a Research and Rehabilitation aspect. Research data collected provides first-line defence against diseases and population decline, particularly in threatened and endangered species. The Rehabilitation Centre provides a temporary refuge for sick and injured animals as they are nursed back to health before being released into their natural habitat. Volunteer assistance is vital to achieving the goals of this ambitious project.
This is a hands-on project suited to volunteers with a passion for the natural environment and inhabitants.
Specific tasks will depend on the animals in care at the time of placement but volunteers can expect to be involved with the following: 
Harvesting, preparing and distributing food and water for the animals in care
Maintaining clean enclosures
Animal enrichment and exercise activities 
Animal release
Research and monitoring of wildlife in their natural habitat
Field work in the wider reserve, including camera checkpoints, species observations, data input and animal counts 
Love Volunteers welcomes those who wish to give their time and  energy to help protect and conserve the native wildlife of Australia. The program is strictly limited to those 18 years and over due to the nature of the work and risks inherent in working with wild and injured animals.
This project is best suited to those who are either pursuing a career in animal conservation/zoological studies, or who simply wish to explore an interest in this field. However, the project is open to all and does not require participants to have specific education, qualifications or experience, as you will be shown everything you need to know by one of local project leaders. Importantly though, all applicants must first and foremost have a genuine willingness to help, show drive and initiative, and bring a positive 'can-do' attitude. If this sounds like you, we want you on the team!
A current tetanus vaccination record is required.
Additionally, volunteers applying to join this program will be required to supply to following documentation:
Queensland is Australia's tropical paradise and Cairns is the gateway to its Far North regions!
Covering an enormous landmass (5 times the size of Germany) and encompassing diverse landscapes, from tropical rainforest to savanna, Queensland is home to over 1000 types of ecosystems - a veritable nirvana for wildlife. 
This project is based in a Tropical Wetlands Reserve in Far North Queensland, near the town of Mareeba, roughly one hour west of Cairns. The Mareeba area has cultural as well as natural significance and has long been inhabited by the indigenous aboriginal peoples. The area is synonymous with the northern Australian way of life, extraordinary wildlife and landscapes, tropical fruit and delicious locally grown coffee . 

The Reserve in which volunteers live and work is an idyllic location, full of sunshine during the day and stunning astronomical displays at night. Wonderful wildlife and breathtaking scenery are in abundance.  An unmissable opportunity for nature loving volunteers!
This 1 week project is available year-round on the third SUNDAY of every month. 
Volunteers wishing to extend their stay are welcome to combine this program with another in Cairns.   
Spaces are limited subject to availability. 
For current available start dates please check the calendar on the right.
Arrival & Orientation
Breakfast / Lunch / Dinner , Airport Pick Up Not Included
Volunteers arrive into Cairns International Airport on Sunday and transfer to a hostel for their first night's accommodation.
Early Monday morning volunteers transfer by coach to Mareeba where they are collected by the local team and taken to the project site. 
An extensive orientation is conducted on arrival at the Reserve covering: the wildlife and conservation facility, the work schedule, animal protocols, the wider reserve, data collection, social media & information sharing and free time activities. Volunteers are briefed on all safety and emergency procedures.
Arrival Day: SUNDAY 8am - 8pm
Departure Day: SATURDAY (returning to Cairns late afternoon)
Arrival Airport: Cairns International Airport, Queensland, Australia (Code: CNS)
Transfer: 7am Monday morning. Cooktown Express Northbound from Cairns to Mareeba (AUD$25).
Accommodation & Meals
Volunteer House / Meals Included
Volunteers on this program spent 5 nights on-site at the Reserve, on the shores of the wetlands, living and breathing the bush safari experience!
Upon arrival into Cairns volunteers transfer to their first night's accommodation in a central Cairns hostel before heading to the reserve at 7am Monday morning.  
Accommodation on-site is in private, fully furnished safari-style canvas tents, set up on wooden platforms. Each tent has its own en-suite bathroom, fridge and small table. Tents are solar powered with lighting, fans and hot water so its luxury 'camping' at its best!  Tents sleep up to 3 and it may be necessary to share with 1 other volunteer of the same gender. Normally, however, each volunteer will have a tent to themselves.  Linen is provided so volunteers need only bring a towel and personal toiletries.
A communal building complete with fully equipped kitchen and areas to relax and laundry facilities complete this idyllic home away from home.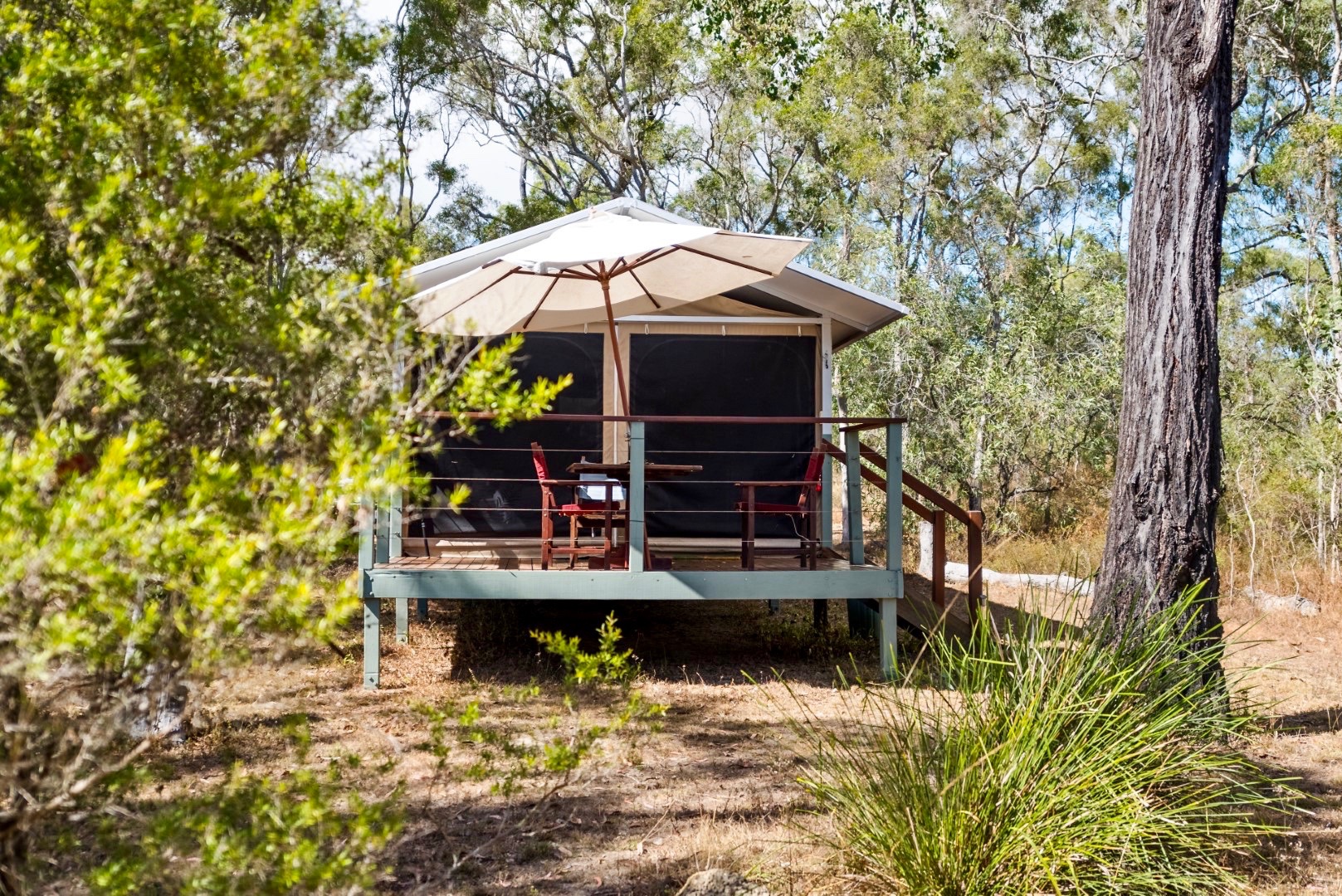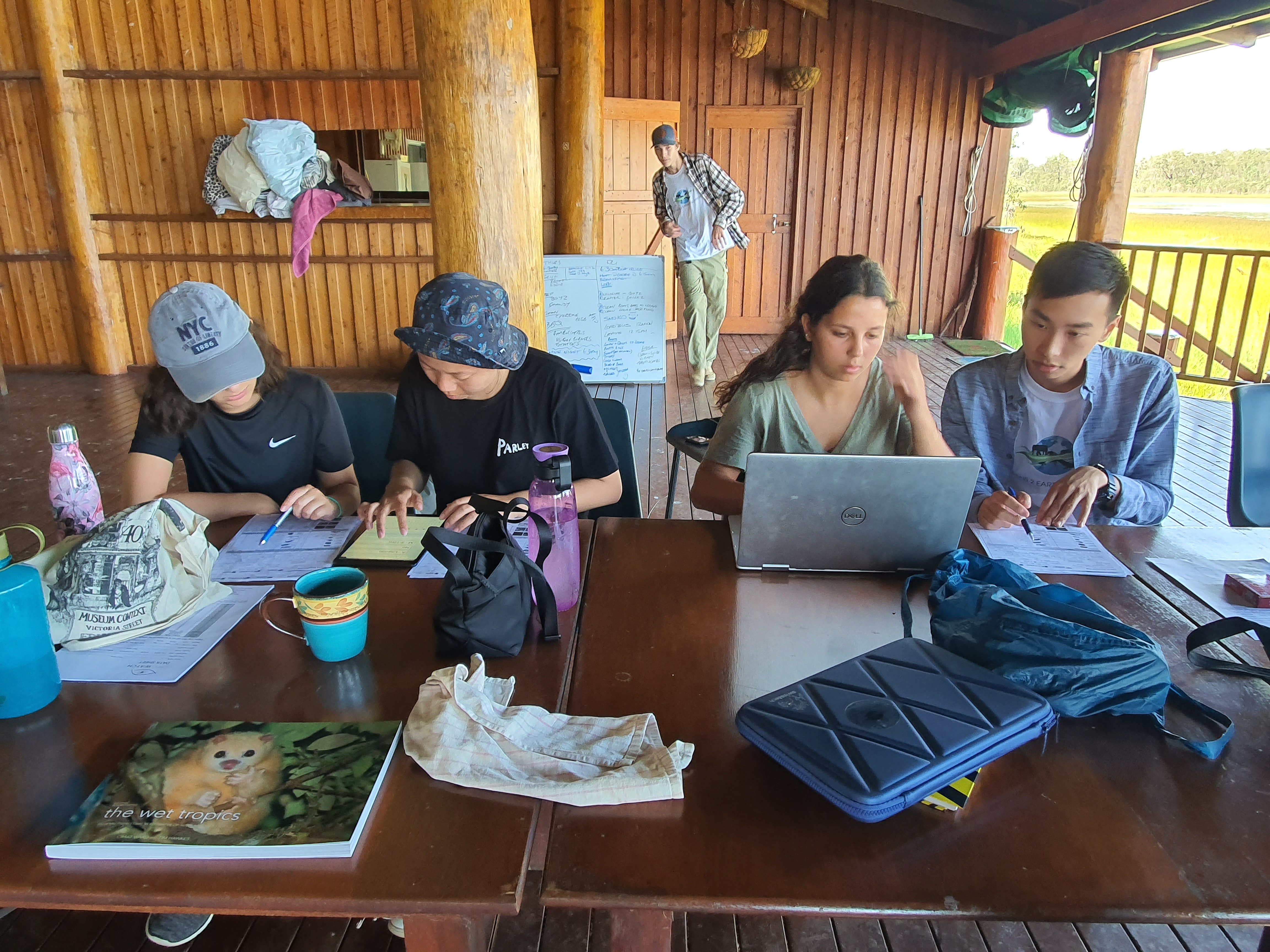 All meals are included while on-site, prepared by volunteers in the communal kitchen.  Vegetarian, vegan and pescatarian diets are catered for.
That's just
USD 114

per day* for:
*In addition to the program fees listed above a Registration Fee is payable to secure your place. The registration fee is USD 299 for those volunteering with Love Volunteers for the first time or USD 149 for any subsequent volunteer placements. The registration fee includes: lifetime LV Alumni Membership, fundraising support & advice, dedicated pre-departure support, certificate of completion (on request), and exclusive access to the LV Trip Planner.
Some things are not included in the program fees listed above, such as flights, visas, vaccinations, travel insurance, additional foods and snacks, spending money, local transport, in-country trips and excursions, return airport transfer (unless mentioned above).
Please note that prices are subject to change without notice. Please ensure you have read the Love Volunteers Terms and Conditions & Refund Policy.
Volunteers are required to bring:
Eco friendly 1+litre drinking bottle (at least 1 but 2 is recommended)
Lightweight work clothes
UV protection sunglasses
Wide-brimmed sunhat and a cap
Quick dry towel
Closed toes shoes. Leather shoes or boots are recommended. Trainers or fabric shoes can get filled with grass seeds so are not ideal.
Headtorch
Rechargeable torch
Minimum 30 SPF factor sunscreen – REEF/Water Friendly
Insect repellent
Swimwear  
Camera
Extras for the Wet Season (October-February)
A light raincoat
An extra change of clothes
Extras for Dry Season (March - September)
Warm clothes as night time temperatures can drop to 8 degrees celsius (47F)